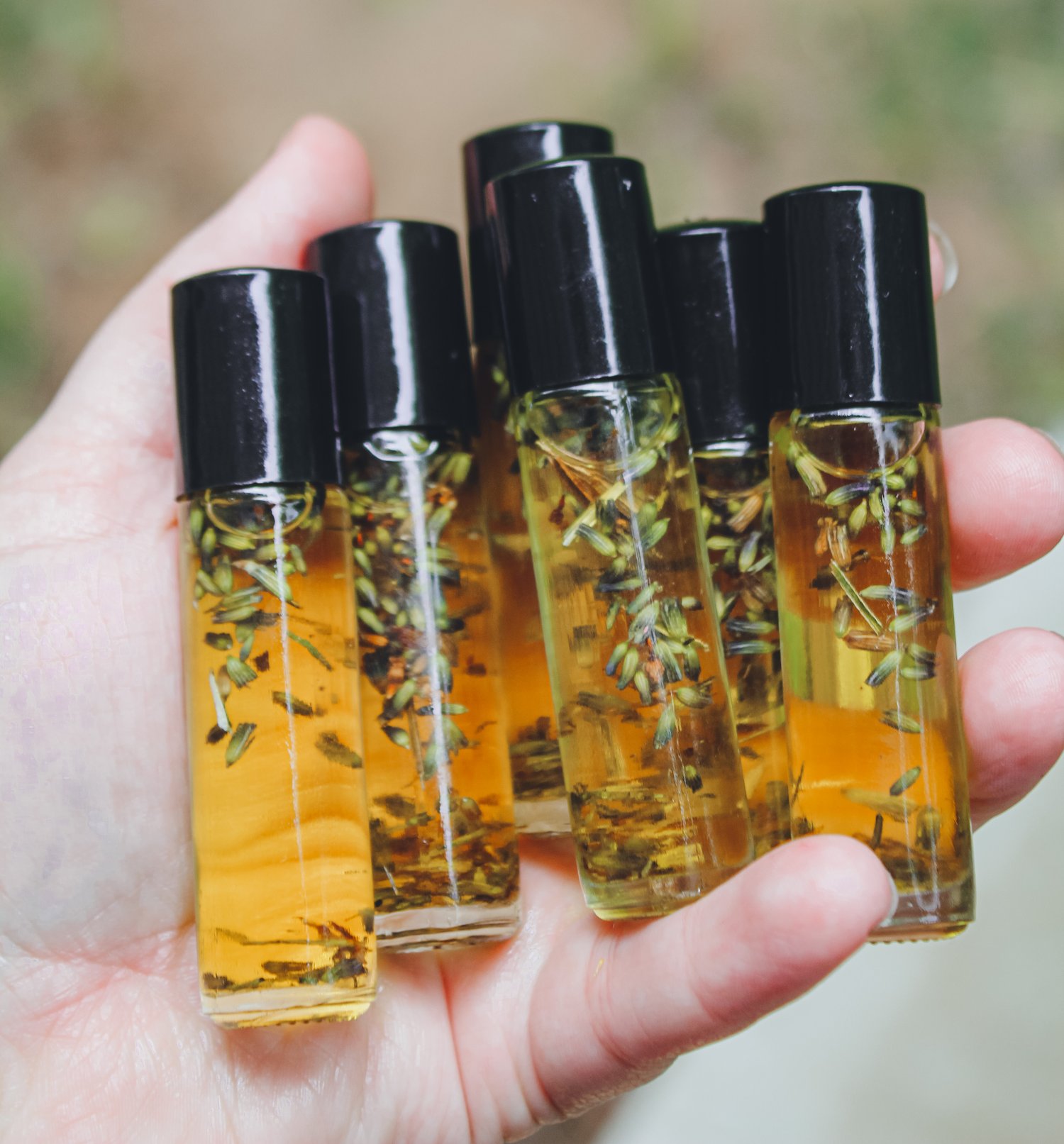 Antihistamine Roll on
This is an herbal glass roll on made blend of organic herbs of peppermint, nettle, calendula, eucalyptus and lavender flowers, slow infused in organic cold pressed avocado oil. I did add a small amount of organic peppermint and lemon eucalyptus essential oils with the idea to help boost the antihistamine effects to help relieve allergic symptoms especially those that impact breathing. 100% natural, holistic defense against stopped up sinuses, sneezing, watery eyes.
This can help stimulate your body's own antihistamine capabilities for allergy season relief during allergy season in spring and fall and for all year round relief.
What's inside?
Lavender has been reported as helping those with asthma and bronchial inflammation. One study indeed found that Lavender may be helpful at inhibiting allergic inflammation and the production of mucous in airways.
Calendula has been found to have strong anti-inflammatory properties and also contains acids held within the oils of this plant that have powerful antimicrobial and antiviral effects.
Eucalyptus opens up the lungs and sinuses, thereby improving circulation and reducing symptoms of allergies. Eucalyptus oil produces a cold sensation in the nose that helps to improve airflow.
Peppermint oil is an excellent decongestant. Inhaling diffused peppermint oil can almost immediately unclog the sinuses and offer relief to scratchy throats by reducing inflammation. It can also act as an expectorant and provides allergy relief in addition to relieving symptoms from colds, coughs, sinusitis, asthma, and bronchitis.
All Ingredients are certified organic or wildcrafted.
Instructions: Apply to skin 1-3 times daily or as needed. The most effective areas to apply include the back of the neck, chest or over the sinuses (but be careful to avoid the eyes!). For prevention of seasonal allergies, begin using 2 weeks before allergy season.
Ingredients:
Organic cold pressed extra virgin olive oil and cold pressed avocado oil infused with peppermint, lavender, and frankincense, organic essential oils of peppermint and lemon & eucalyptus.
NOTES:
- Skin Test: apply a small amount on the inside of your forearm to check for sensitivities.
- For external use only.
- Keep away from eyes
This product is :
- Always made with organic ingredients.
-Free of any synthetic or artificial ingredients, detergents, parabens, sodium laurel sulfate, phthalates, EDTAs, chemicals, mineral oils, and petroleum ingredients.
- Free of pesticides, synthetic chemicals, chemical fertilizers, herbicides, or growth agents.
-Free of fillers, slipping agents, glycols, silicones, dyes, or preservatives.

-Never tested on animals.