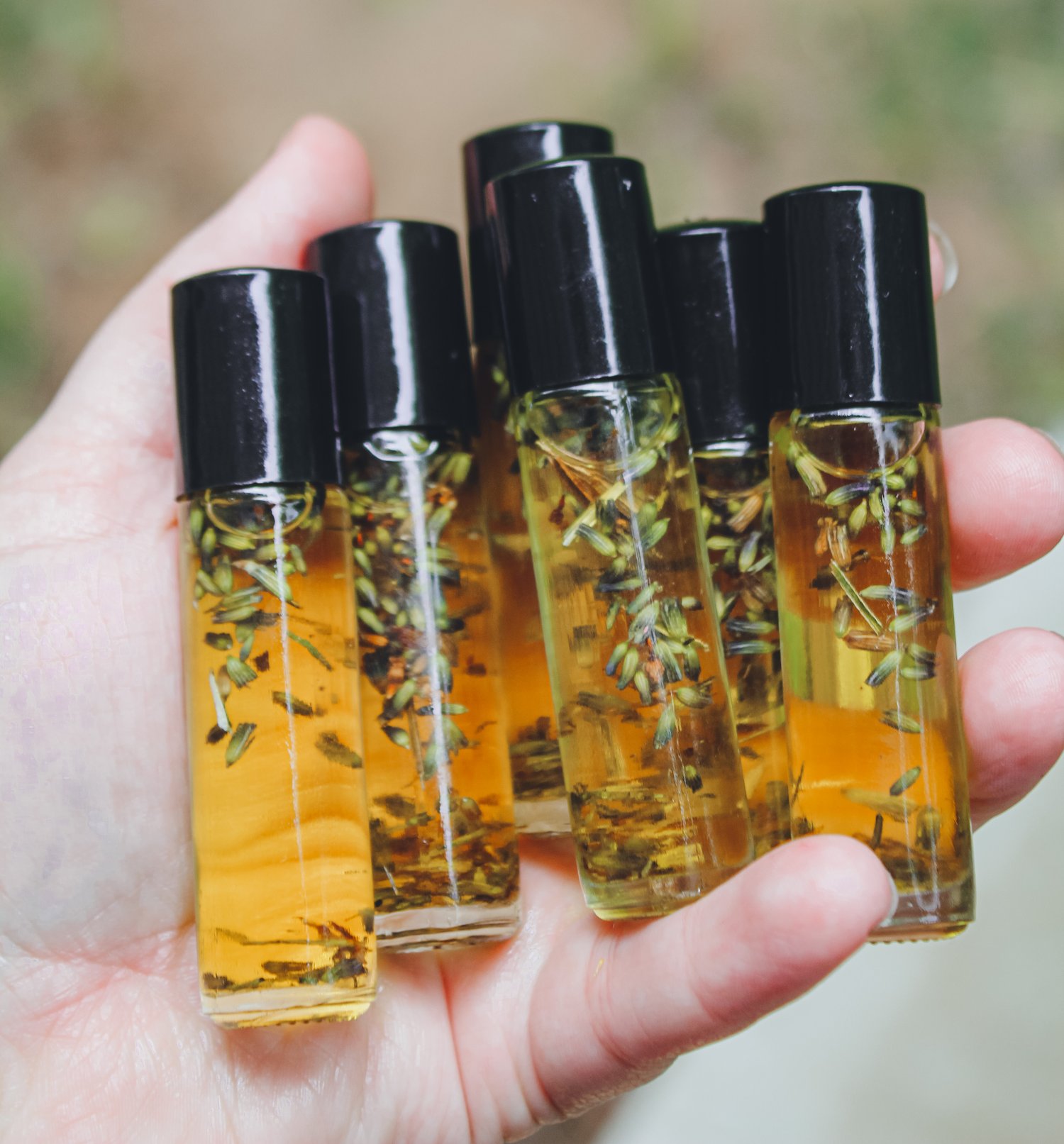 Antihistamine Roll on
This is an herbal glass roll on made blend of organic herbs, slow infused in organic cold pressed oils. I did add a small amount of organic essential oils with the idea to help boost the antihistamine effects to help relieve allergic symptoms especially those that impact breathing. 100% natural, holistic defense against stopped up sinuses, sneezing, watery eyes.
This can help stimulate your body's own antihistamine capabilities for allergy season relief during allergy season in spring and fall and for all year-round relief. I use this anytime I'm outdoors and feel that allergy scratch in my chest or throat!
What's inside?
Oat straw acts as a calming agent, making it great for sensitive skin formulations. It contains a particular group of antioxidants called avenanthramides, which have been found to reduce inflammation both internally and on the surface of the skin. Using it topically, it is great for softening skin and relieving the itchiness of eczema, hive, rheumatism and neuralgia. Oat straw has been known to have a healing and restorative effect on scars and stitches.
Stinging nettle harbors a variety of compounds that may reduce inflammation. Some research shows that nettle extracts can inhibit inflammation that can trigger seasonal allergies. This includes blocking histamine receptors and stopping immune cells from releasing chemicals that trigger allergy symptoms.
Lavender has amazing anti-inflammatory, and antibacterial properties and is effective at naturally loosening up phlegm and relieving congestion, all which help to speed the process of recovery and remove unwanted material from the body. Thus, it is used to help with respiratory disorders such as asthma, whooping cough, laryngitis, tonsillitis, throat infections, flu, cold, cough, chest congestion, and sinus congestion.
Calendula flowers are indicated for the topical treatment of minor inflammations of the skin and mucosa, to assist in the healing of minor wounds, and for the treatment of burns. It's also speculated that calendula might help treat contact dermatitis, which includes reactions to poison ivy!
Yarrow is used traditionally to treat colds, the flu, and fevers, but it can also be a useful remedy against allergic rhinitis. Its anti-microbial and anti-catarrhal actions make it an ideal herb for the respiratory system, and this natural healer also treats sinusitis and dust allergies. Yarrow also demonstrates broncho-dilatory effects that are beneficial for those with asthma. It also has a natural drying property and soothes swelling in the nasal glands, which provides welcome relief for those suffering from allergies.
Eucalyptus opens up the lungs and sinuses, thereby improving circulation and reducing symptoms of allergies. Eucalyptus oil produces a cold sensation in the nose that helps to improve airflow.
Scots pine improves respiratory capacity and soothes coughs thanks to its antitussive properties. Its action is also anti-inflammatory and decongests the upper respiratory tract.
Black Spruce can be useful for soothing respiratory problems such as coughs, colds, flu, bronchitis, catarrh, sinus congestion, asthma and allergies. It helps open the airways and clear mucous and congestion.
Cypress is a natural antispasmodic and respiratory tonic that can help relieve respiratory issues, help clear the throat, reduce nasal and chest congestion, and can also treat a cough.
Sweet Marjoram is the best oil for treating spasmodic coughs: coughing that leads to dry chest spasms, often causing shortness of breath and/or difficulty breathing.
The soothing, cooling, respiratory supporting essential oils in this blend are unmatched in helping to clear congestion and allowing you to breathe easier.
Instructions: Apply to skin 1-3 times daily or as needed. The most effective areas to apply include the back of the neck, chest or over the sinuses (but be careful to avoid the eyes!). For prevention of seasonal allergies, begin using 2 weeks before allergy season.
Ingredients:
Organic cold pressed avocado oil infused with oat straw, yarrow, lavender, nettle, peppermint and calendula, organic essential oils of eucalyptus, peppermint, scots pine, lavender, black spruce, cypress and sweet marjoram.
NOTES:
- Skin Test: apply a small amount on the inside of your forearm to check for sensitivities.
- For external use only.
- Keep away from eyes
This product is :
- Always made with organic ingredients.
-Free of any synthetic or artificial ingredients, detergents, parabens, sodium laurel sulfate, phthalates, EDTAs, chemicals, mineral oils, and petroleum ingredients.
- Free of pesticides, synthetic chemicals, chemical fertilizers, herbicides, or growth agents.
-Free of fillers, slipping agents, glycols, silicones, dyes, or preservatives.

-Never tested on animals.