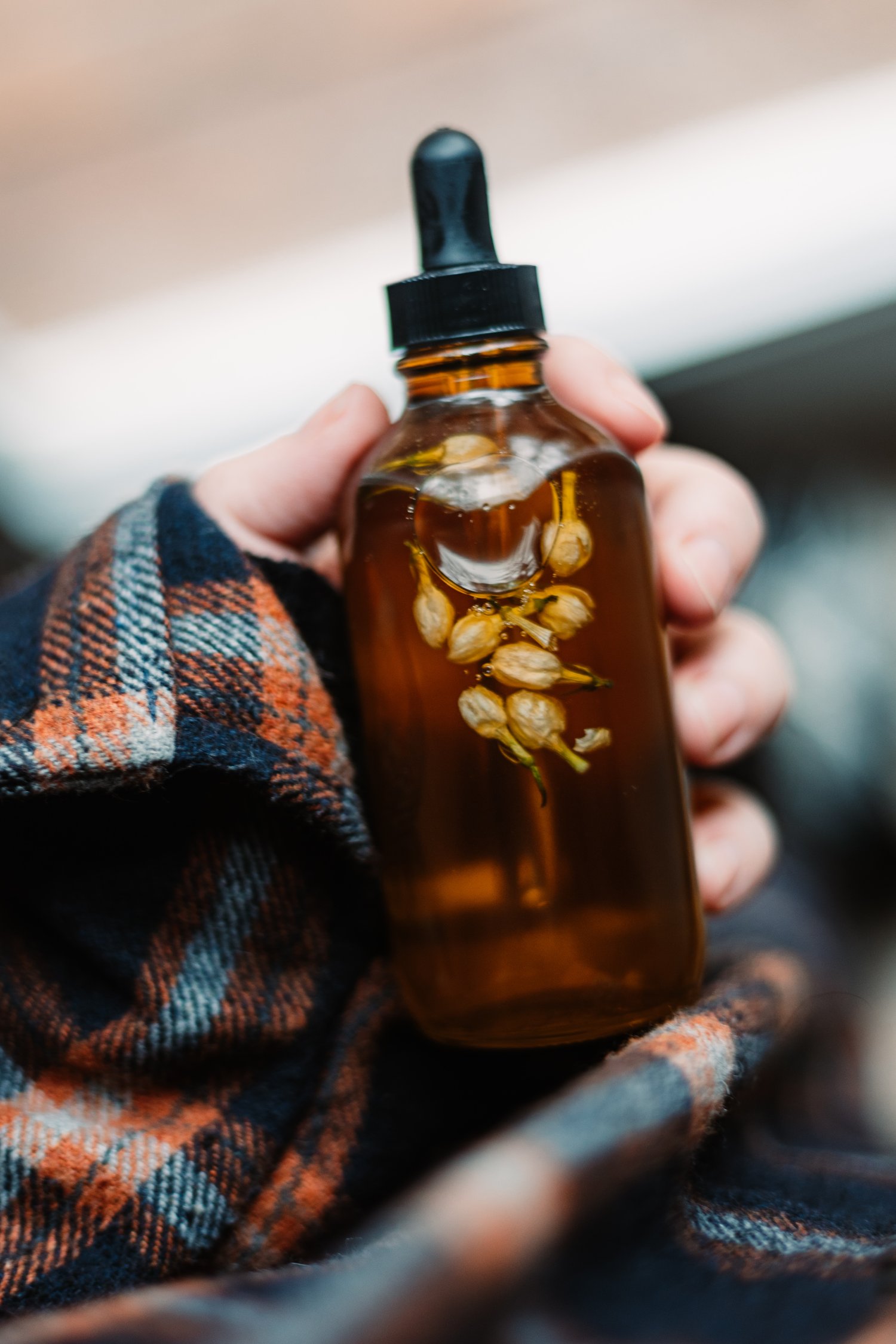 Bohemian Babe Oil
An oil formulated for the wild, untamed soul. For those who wander but are not lost, for the hippie at heart and the gypsy free spirit. This is a sensual and romantic therapeutic blend of infused oils and select essential oils that will help to invigorate your dry, winter kissed skin while helping to calm, enhance & nourish any troubled areas. The aromatherapy of this oil can help to relieve the heaviness of your daily stresses and give you an extra bit of peace, ease and botanical love. Made with a base of botanical infused cold pressed avocado and jojoba oils, this oil is perfect for massages, applied after showering or bathing or as an overall therapeutic moisturizer.
Here is what magic resides inside:
Patchouli: the phytochemicals in patchouli oil make it very useful for treating a wide range of skin disorders and issues and has strong natural antiseptic properties, which makes it suitable as a treatment for minor cuts and wounds. The oil is also commonly utilized in aromatherapy for its ability to help ease the symptoms of depression, can boost your energy levels and help you get rid of stress and anxiety.
Frankincense: has high levels of boswellic acids, which are 'heavy' terpenes that are thought to have anti-cancer and anti-inflammatory effects. It is thought to fade scars, help with wound healing and to treat acne.
Lavender: The soothing aroma of lavender is proven to help reduce anxiety, stress, depression, and insomnia. Scientific studies show that lavender is anti-inflammatory, antibacterial, anti-fungal, an antioxidant, and has the ability to relieve pain. It can also help repair damaged skin tissue and heal wounds. This makes it awesome to heal rashes, bites, burns, acne, scrapes, eczema, stings, scars, and more.
Sea Buckthorn Oil: rich in vitamin C, vitamin A, both alpha- and beta-carotene, vitamins B1, B2, and B6, vitamin E, fatty acids and flavonoids, Omega 3, 6, 9 and rarest Omega 7 and about 190 bioactive compounds, which all help to fight free radicals. It can help as a moisturizing ingredient as it contains linoleic acid, which is found naturally in the sebum, so it may help to regulate moisture levels and overall help with hydration.
Vanilla: very rich in antioxidants which neutralize free radicals and reverse skin damage caused by them. It helps to slow down signs of ageing like fine lines, wrinkles and age spots. It not only leaves your skin feeling rejuvenated but also smelling lovely.
Jasmine: acts as an effective antibacterial, soothing dry skin and eczema and increasing cell turnover to lighten the appearance of scars. Treating skin imbalances holistically, jasmine balances hormone levels and works as a formidable stress-reducing therapy.
Sweet Orange: has the ability to help reduce skin infection by preventing bacteria and fungal cells from developing in irritated skin, may help reduce the appearance of scars, acne marks, and stretch marks.
How to use:
Apply 1-2 droppers for a relaxing massage, add 3-4 droppers into your bath water for an aroma-therapeutic and skin loving bath, or apply a generous amount after showering while skin is still damp & enjoy the earthy, floral, sweet aroma all over your body.
Ingredients:
Organic cold pressed avocado and jojoba oils infused with patchouli leaves, lavender buds, frankincense resin and vanilla beans, organic sea buckthorn oil, organic essential oils of patchouli, vanilla, sweet orange.
NOTES:
- Skin Test: apply a small amount on the inside of your forearm to check for sensitivities.
- For external use only.
- Keep away from eyes
This product is :
- Always made with organic ingredients.
-Free of any synthetic or artificial ingredients, detergents, parabens, sodium laurel sulfate, phthalates, EDTAs, chemicals, mineral oils, and petroleum ingredients.
- Free of pesticides, synthetic chemicals, chemical fertilizers, herbicides, or growth agents.
-Free of fillers, slipping agents, glycols, silicones, dyes, or preservatives.

-Never tested on animals.