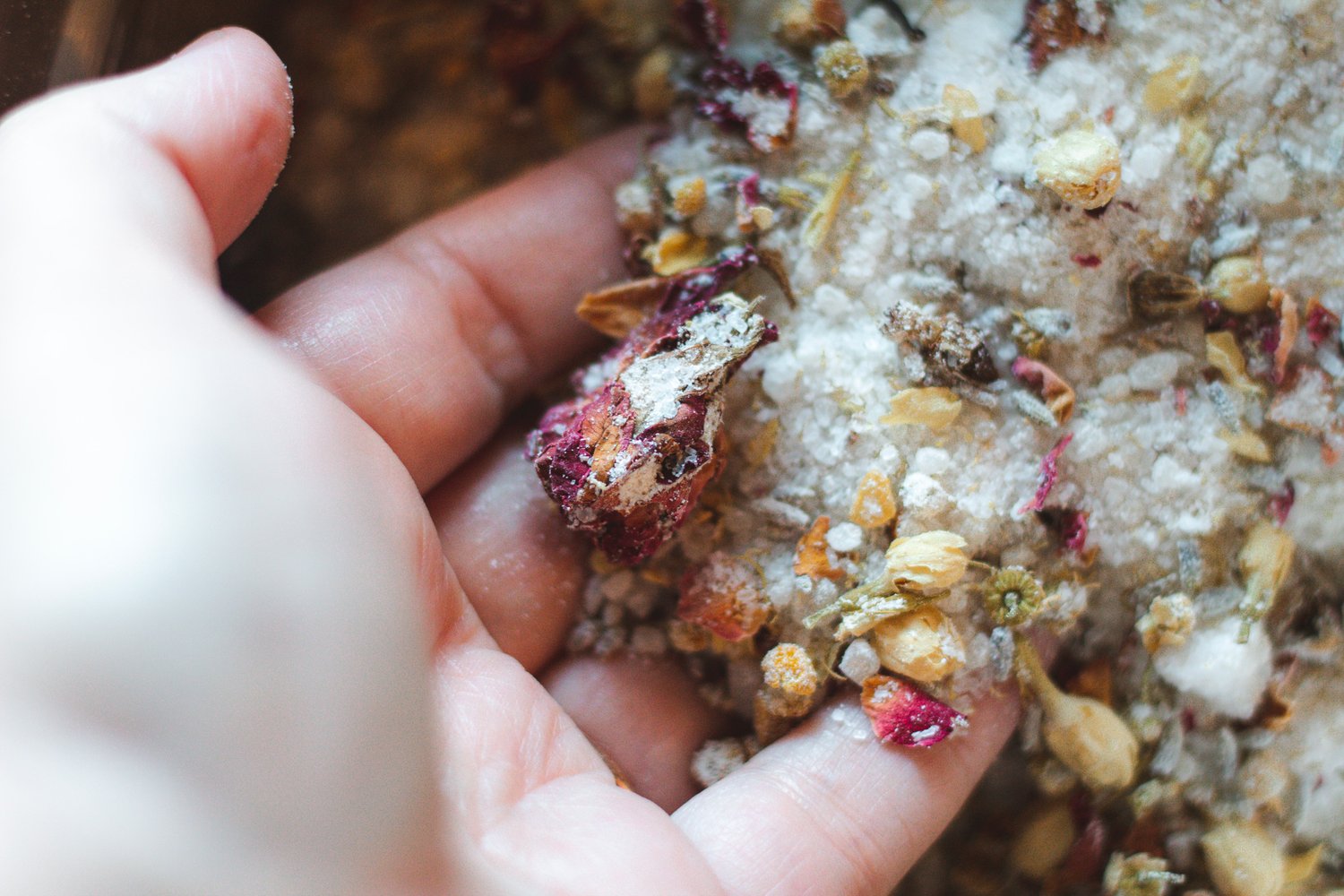 $
18.00 -
$
38.00 —
Sold out
Botanical Bath Tea
I really feel a hot, steamy herby bath is the most perfect ending to the day. Or you can, if you like me, enjoy them in the mornings too! I just find something so nourishing about sneaking away from the chaos and dipping my achy tired body into a medicinal bath. This mixture is an especially special one that will not only give you the benefits of the flowers but also nourish and moisturize your skin from the oatmeal! Every jar has epsom salts, colloidal oats and dead sea salts with an addition of special herbs to target specific ailments or desires. Please read below about each version so you know what one is right for you!
Epsom salt helps stabilize mood and relieve stress, anxiety and depression. Some researchers claim that taking magnesium increases serotonin (happiness or relaxation hormone) production in the brain. It also helps relax muscles and relieve pain in the shoulders, neck, back and skull. For example, by relaxing the muscles surrounding the skull, the magnesium in Epsom salt may help release a headache or migraine. Some researchers also think that magnesium is good for reducing inflammation in internal organs. This may help reduce the risk of cardiovascular disease and improve digestion/bowel movement.
Oats have the ability to soften and moisturize your skin which can help with dry itchy skin, especially in the winter months! Oats have properties that help to alleviate skin irritations, whether from a common rash, eczema, poison ivy, hives, bug bites or even diaper rash.
Dead sea salt can help relieve stress, ease achy muscles, and treat irritated skin. They can help remove scales or rough skin patches and decrease the bothersome itching caused by psoriasis, eczema or other atop dermatitis. Dead sea salt has been known for helping to relieve stiffness in joints and soothe achy, overworked legs and feet.
DETOX ME:
Lemon balm a mild astringent with antibacterial properties, is great for oily and acne-prone skin. It helps tone, balance, and refresh the skin. It cleanses pores and has a soothing effect on sensitive skin. A calming herb, it helps relieve stress and induce sleep.
Linden is a relaxing nervine and may be helpful in calming nervous system tension and soothing irritability. This herbs contains flavonoids that help improve and strengthen circulation, making this a wonderful anti-inflammatory, warming, analgesic and soothing addition.
Ginger speeds up circulation, which creates heat, causing a sweat response. It can help to alleviate cold and flu symptoms, nausea and headaches. It can also be helpful with purging the everyday toxins we're all exposed to in the modern world.
Yarrow is used as an antiseptic to help fight against bacteria, it can tighten the skin, help fight acne, contains anti-inflammatory properties and soothes irritation, provides mild pain relief and is ideal for sensitive and problematic skin.
Calendula contains anti-inflammatory (along with many other immune helping properties) properties and is soothing to irritated skin. Some people with eczema and other skin conditions may find it calming and beneficial.
CHILL OUT:
Rose petals are also naturally fragrant, with a calming soothing fragrance, they also promote beautiful radiant skin.
Lavender is commonly used for anxiety, stress, and insomnia. It is also used for depression, dementia, pain after surgery, and many other conditions. It has pain-relieving properties, the ability to reduce inflammation, and antimicrobial activity. Lavender promotes relaxation and believed to treat anxiety, fungal infections, allergies, depression, insomnia, eczema, nausea, and menstrual cramps.
Jasmine not only adds a beautiful spa like feel to the bath and smells intoxicating but also is beneficial for relieving pain or muscle soreness.
MUSCLE EASE:
Juniper has a long tradition of use for topical applications to ease the pain of arthritis, muscle tension, and even gout. Its incredibly antiseptic and anti-inflammatory, helpful for conditions like acne, psoriasis, and eczema.
Arnica flowers and roots have been used to treat bruises, sprains, arthritic pain, and muscle aches. A highly diluted form of Arnica is also used in homeopathic remedies. Studies show that arnica has antimicrobial and anti-inflammatory properties.
Peppermint is excellent for tired and aching muscles, as this herb produces a cooling and pain-relieving effect. The menthol found in Peppermint is both highly effective anti-inflammatory and analgesic agents. Menthol, especially, is an effective muscle relaxant.
Sage is slightly warming and has anti-spasmodic actions, which help to ease tense or aching muscles. It's a great addition to a muscle recovery bath to relieve aches and pains.
HOW TO USE :
Use as much or as little as you desire. Either use the cloth bag or pour the bath tea right into your bath as the water is running and stir to dissolve. Soak for at least 10 minutes, I like to do about 30-45 minutes. Squeeze the bag frequently to release the teas benefits into the water. Many of the herbs in this mixture are larger so if you are concerned about your bathtub drains, I recommend putting the soak into the bag provided. Rinse out the bag and turn inside out to dry.
This product is :
- Always made with organic ingredients.
-Free of any synthetic or artificial ingredients, detergents, parabens, sodium laurel sulfate, phthalates, EDTAs, chemicals, mineral oils, and petroleum ingredients.
- Free of pesticides, synthetic chemicals, chemical fertilizers, herbicides, or growth agents.
-Free of fillers, slipping agents, glycols, silicones, dyes, or preservatives.

-Never tested on animals.