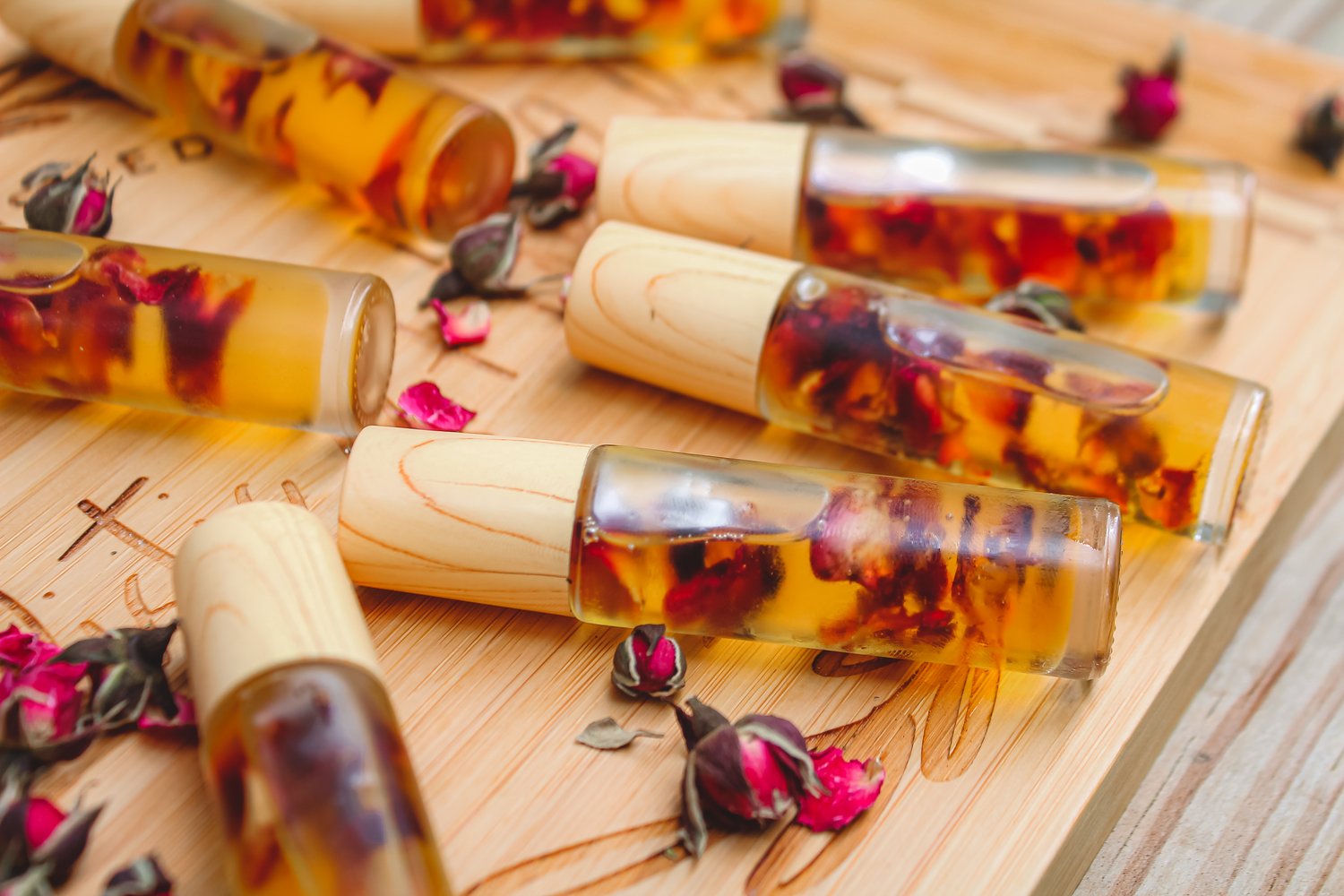 Botanical Bliss Roll On
This Perfume Oil has an alluring smell of fresh rose petals and subtle vanilla. It has exquisite floral rose petal, sweet, and soft vanilla notes with a touch of earthy neroli. This aromatic oil will enhance your mood and feelings of well-being while leaving you smelling luxuriously delightful. This infused oil is alcohol and filler free, so it may take a minute or two for the slowly warming scent to emit its full botanical bouquet. The fragrance will be smoother and better balanced than any alcohol-driven aroma and well worth the wait.
The combination of oils helps to fight sadness, a broken heart, worry over loved ones, or even have physical heart issues. When it comes to repair of the heart there are few oils that compare to Neroli Essential Oil, other than Rose Absolute. The oils in this bottle are known to contain sedative, antidepressant and anti-anxiety effects but also helps reduce stress and assist the endocrine system. Your endocrine system affects puberty, your ability to manage stress, getting pregnant, weight gain, bone strength, energy levels and blood sugar.
Some of the bioactive constituents in this oil offer highly effective therapeutic properties and benefits on sleep and increased melatonin. It even helps to assist sleep in post-menopausal women. This wonderful oil is great for insomnia, tension, headaches, and stomach upsets. So it not only helps with stress and anxiety but you will smell good and FEEL good when you apply this to your pressure points.
The inside goods:
Rose is also known for its calming properties, helping to soothe emotions and bring calm in the midst of fresh grief. It can promote relaxation before sleep when diffused or applied topically diluted in a carrier oil. It is extremely useful in skin rejuvenation, as Rose oil counteracts the visible signs of aging, reducing the appearance of wrinkles and helping smooth skin. Rose Absolute is also reputed to help with the "power surges" suffered by many women going through the normal change of life.
Vanilla Bean stimulates the secretion of certain hormones like testosterone and estrogen, which helps women who suffer from loss of libido. It been shown to improve hormone levels, mood and outlook on life. Vanilla has been commonly used as a home remedy from the 17th century to fight anxiety and depression with nutrition. Vanilla oil has a calming effect on the brain, which helps with anger, insomnia, stress and anxiety.
Neroli's smell has a distinctly and elegantly sweet scent that is great for stress alleviation. Because neroli oil brings balance and calmness, its aroma is able to bring "healing" through reducing anxiety and soothing emotions.
Myrrh is a sacred essential oil that helps with recovery from intense emotions that come from being blindsided: such as accidents, surgery, trauma or sudden traumatic news like being diagnosed with a serious illness. Myrrh's woody aroma is warm, uplifting, purifying, and restorative. This makes the soul feel the love and nurturing presence of a mother. As a result, you feel safer, more stable, and secure. 
How to use:
Gently shake and unscrew the cap. Turn bottle over & apply applicator to the inside of each pulse point : wrist, neck, top of hands, behind the ears, inner elbows or wherever you normally apply perfumes, and gently massage in. Use as needed and ENJOY!
Ingredients:
Organic cold pressed avocado, coconut and jojoba oils infused with organic herbs of Madagascar Vanilla Beans, Hibiscus, Jasmine and Rose Petals; organic essential oils of Neroli, Rose Absolute & Myrrh.
NOTES:
- Skin Test: apply a small amount on the inside of your forearm to check for sensitivities.
- For external use only.
- Keep away from eyes
This product is :
- Always made with organic ingredients.
-Free of any synthetic or artificial ingredients, detergents, parabens, sodium laurel sulfate, phthalates, EDTAs, chemicals, mineral oils, and petroleum ingredients.
- Free of pesticides, synthetic chemicals, chemical fertilizers, herbicides, or growth agents.
-Free of fillers, slipping agents, glycols, silicones, dyes, or preservatives.

-Never tested on animals.