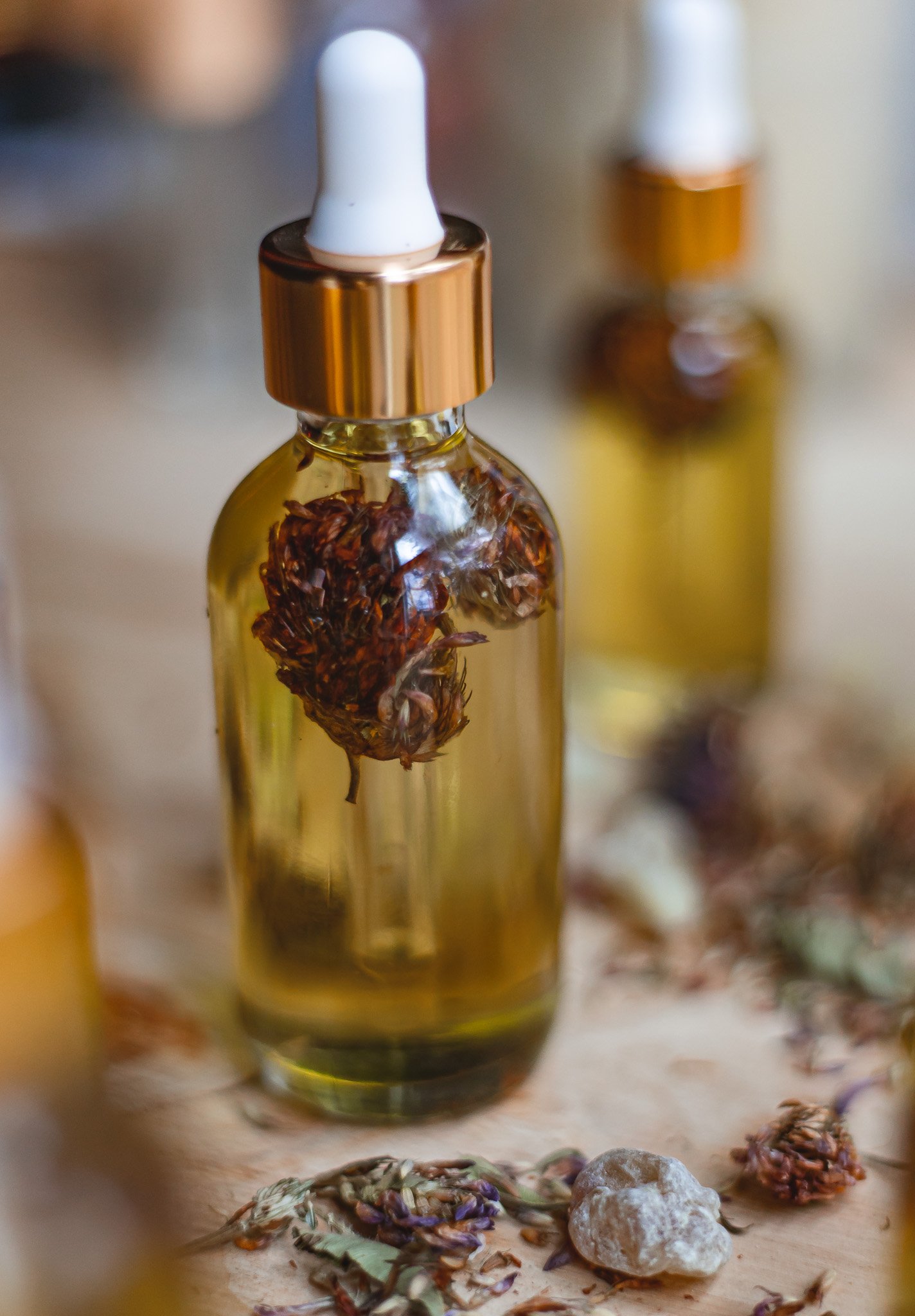 Botanical Breast Friend
Healthy breasts require regular massaging as this helps to stimulate, detoxify and decongest our lymphatic system. This is a nourishing and light lymphatic massage oil to help nourish the breast and skin tissue that can help to move stagnant lymph and help the body resist, break up and avoid lumps, cysts, and cancers. The herbs I use are known to improve circulation, increase lymphatic flow within the breast tissue, and heal and prevent cysts. Breast tissue is extremely thin and the oils used are easily absorbed into the skin for deep penetrating healing.
Red Clover assists the body in removing waste products and toxins from our fluids and tissues. This makes it very useful for the treatment of any chronic inflammatory condition of the skin, muscles, and joints, as these kinds of conditions always have a toxicity components.
Yarrow promotes fluid flow in the breasts and inhibits bacterial growth. Studies have shown that consistent use of yarrow oil seems to prevent the growth of new blood vessels that cancerous tumors need for growth. Yarrow is also a wonderful herb for relieving swollen, tender breasts and nipples.
Calendula is the sunshine herb known to promote cell repair. A wonderful vulnerary (would healer), softens and soothes the skin. Absolutely amazing at cooling inflammation.
Frankincense has been linked to treatments for ovarian, breast, and skin cancers. There have been studies showing the powerful healing effects on tumor growth and has been shown to suppress cancel cell viability.
Myrrh is filled with antioxidants and moisturizing properties that keep your skin protected and healthy while also prevents toxins from accumulating in the circulatory system. It facilitates the fading of unwanted blemishes on the skin, soothes itchiness, and reduces symptoms of eczema among other skin ailments. It effectively cleans, moisturizes, and tightens the skin, thereby reducing and preventing further chapping, cracking, and sagging.
Clary Sage has been called the women's health essential oil and is known for relieving pain during mensuration and women suffering from dysmenorrhea have found similar results. It also has been shown to have an interesting anticancer activity, including in vitro action against human breast cancer MCF-7 cells and inhibit estrogen.
This oil can also be used as a womb massage can help release any tension or trauma held within the womb and is also wonderful for relieving menstrual pain. For me personally, I have had 3 C-sections, so this is helpful to not only break up scar tissue and relieve pain but also allows me that intimate time to focus on healing that part of my body emotionally.
To use:
Apply a warm washcloth to the area first and add a small amount to palm of hands. Using gentle pressure, massage in a circular motion into breast tissue, underneath arms, the neck, belly, and groin-- the places which house lymph nodes and often stagnant lymph fluid to promote lymph circulation and relaxation. Avoid bruises, injuries or painful areas. Drink extra fluids, ideally 2-3 glasses of water or herbal infusion after each massage to help flush the body.
Ingredients:
Organic cold pressed avocado oil infused with all organic red clover, calendula, yarrow, and frankincense and myrrh resins, organic clary sage & frankincense essential oil.
NOTES:
For external use only.
Always do a skin test.
Do not use on broken skin.
Discontinue if irritation occurs.
** These statements have not been evaluated by the Drug administration. This product is not intended to diagnose, cure or treat any disease **
This product is :
- Always made with organic ingredients.
-Free of any synthetic or artificial ingredients, detergents, parabens, sodium laurel sulfate, phthalates, EDTAs, chemicals, mineral oils, and petroleum ingredients.
- Free of pesticides, synthetic chemicals, chemical fertilizers, herbicides, or growth agents.
-Free of fillers, slipping agents, glycols, silicones, dyes, or preservatives.

-Never tested on animals.