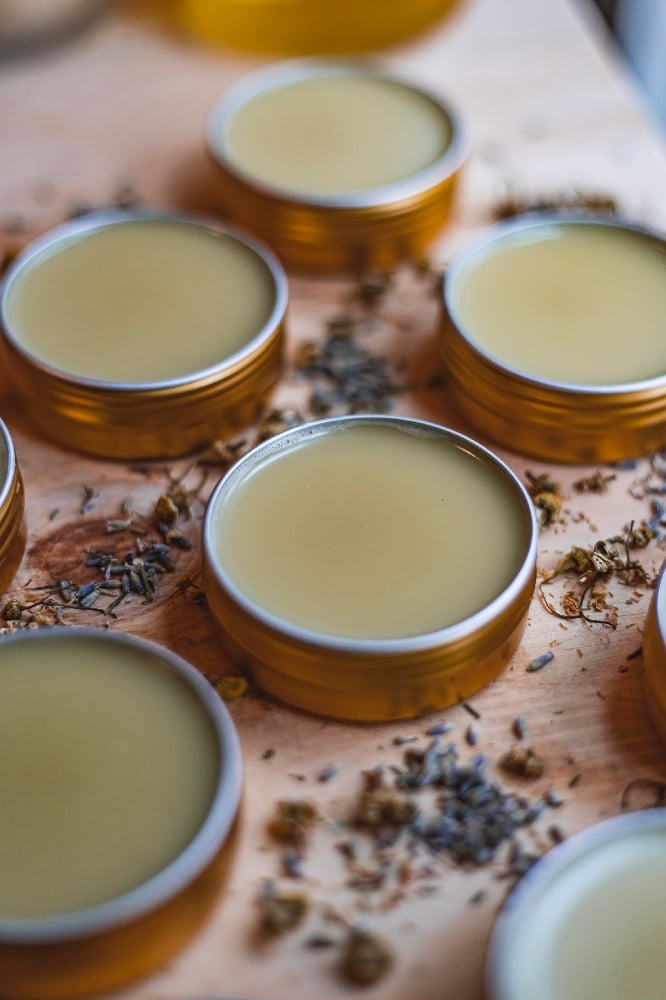 Bug Bite Balm
Soothe the pain and itchiness of mosquito and bugs bites, as well as of the stinging nettle, with this all natural, organic Bug Bite balm! This is a natural healing balm, 100% pure & effective, perfect for you and your family. In a practical small jar, you can carry this in your purse so it is always with you. This gentle, organic salve is based in an infusion blend of soothing organic herbs with amazing healing properties. So what is in this balm?
Lavender has soothing properties much like chamomile, and it can also be pain-relieving. It can be especially helpful for spider bites, fire ant bites, and bee stings. It is a natural analgesic to relieve pain, reduces swelling, redness and irritation especially with bee stings or spider and ant bites, promotes healing.
Yarrow is another classic skin-aiding herb. It's most powerful use is to stop bleeding and help wounds to heal, but it can also be used for the pain and swelling of certain types of bug bites.
Chamomile is a known skin soother and has anti-inflammatory properties that can help calm the itch of bug bites. It also has a pain-relieving effect on skin irritation and may help swelling go down as well.
Peppermint leaves can be helpful for bug bites because they have a cooling sensation that can relieve itchiness when applied to skin. This cooling nature comes from the menthol found in the leaves, which also has pain-relieving properties.
Rosemary is an insecticide that helps with its anti-inflammatory and antimicrobial properties. It helps in soothing and calming irritated skin due to mosquito bites.
Colloidal Oatmeal - Boasts anti-inflammatory and antioxidant properties that benefit the skin. Packed with fats, proteins, vitamins, minerals, and other nutrients that soften, heal, and soothe the skin. Blocks inflammatory cytokines which can aide in the reoccurring frequency and severity of flare ups.
*Made with certified organic, gluten free & GMO free oats.
White Kaolin clay can help draw out toxins causing rashes and itchy bug bites – making it a key ingredient for this home remedy for mosquito bites. Clay has been known to relieve itchiness from insect bites, hives, poison ivy, and poison oak. Studies have shown that bentonite clay can prevent or diminish rashes.
Tallow simply can't be beat for its ability to repair the skin with it's high nutrient-dense vitamin E and vitamin A content. It also helps create a barrier on the skin, moisturizes, strengthens, protects and helps soften and regenerate the skin.
How to use:
Apply as needed on the bitten or irritated areas. Can also use on poison ivy/oak rashes, eczema or sunburned itchy areas. After a few minutes you will see the difference!
Ingredients:
Organic cold pressed avocado oil infused with chamomile, lavender and yarrow, organic beeswax, organic Kaolin clay, organic gf colloidal oats, organic essential oils of lavender, rosemary and peppermint.
NOTES:
For external use only.
Always do a skin test.
Do not use on broken skin.
Discontinue if irritation occurs.
** These statements have not been evaluated by the Drug administration. This product is not intended to diagnose, cure or treat any disease **
This product is :
- Always made with organic ingredients.
-Free of any synthetic or artificial ingredients, detergents, parabens, sodium laurel sulfate, phthalates, EDTAs, chemicals, mineral oils, and petroleum ingredients.
- Free of pesticides, synthetic chemicals, chemical fertilizers, herbicides, or growth agents.
-Free of fillers, slipping agents, glycols, silicones, dyes, or preservatives.

-Never tested on animals.