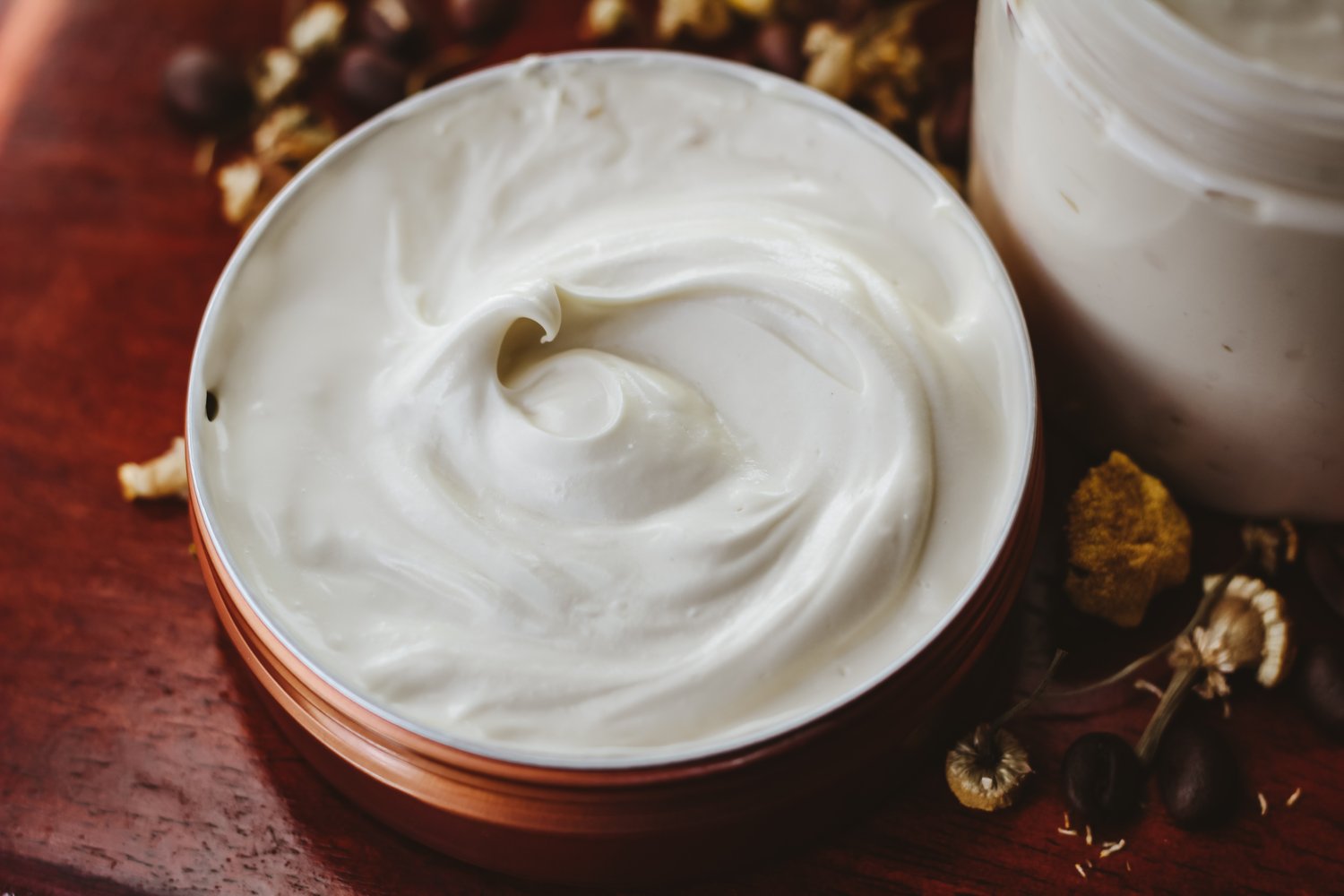 $
24.00 -
$
38.00 —
Sold out
Tighten & Calm Body Butter
Mixing the best of both worlds of cool, calm, collected Chamomile and toning, energizing and rejuvenating Coffee, we have the birth of Chamomile Latte Body Butter. This butter is rich in nutrients that moisturize and replenish the skin from not only the base oils and butters used but also the herbs infused into them .
Mango Butter - comes from the tropical mango tree and is cold-pressed from the seeds of the mango fruit. This butter contains many nutrients and vitamins such as Oleic Acid, Stearic Acid, Palmitic Acid, Linoleic Acid, Arachidic Acid, Vitamin A, Vitamin C, and Vitamin E. It is a great butter for those with sensitive skin, dry hair, eczema, and those looking for a natural product that can be used for anyone and even babies.
Shea butter - comes from the fat pulled out from the nut of African Shea tree. It is rich in vitamins E, A and F – providing the skin with essential nutrients. Some of its many benefits include reducing skin inflammation, moisturizing and strengthening the skin, and reducing the signs of wrinkles.
Coffee - a source of antioxidants, coffee bean extracts can be responsible for skin cell energy preservation due to its free-radical properties. It plays a crucial role in regulating cell re-growth, leading to retained hydration (increased collagen) and increased skin elasticity!
Chamomile - the flower is useful for various bodily and psychological ailments! Chamomile has powerful antioxidants, acts as a very mild astringent, helps to reduce redness from inflammation, reduces bacteria thus cleansing the skin, is soothing and calming and the mild antiseptic qualities of chamomile, combined with its antibacterial and anti-fungal properties, make it ideal for treating facial wounds.
A perfectly light and silky butter that's more like whipped cream so it gives just the right texture for a massage or to moisturize after a long hot shower.
Ingredients:
Organic cold pressed avocado oil infused with organic arabica coffee beans and organic dried chamomile flowers, raw unrefined organic African shea butter and raw, organic mango butter, beeswax, and Roman Chamomile essential oil.
*I understand that warmer weather may cause butters to melt. I do add beeswax and in some of them a harder butter like KOKUM but it MIGHT occur! If this does happen, pour into a bowl, stir well and place in the fridge for about 30 minutes. You can then whip it back up. It might not be the same consistency as it began but it will 100% still be as medicinal and beneficial. I cannot do returns or refunds on melted butters and these do cost me quite a lot of ingredients to create. Xoxo.
NOTES:
- Skin Test: apply a small amount on the inside of your forearm to check for sensitivities.
- For external use only.
- Keep away from eyes
This product is :
- Always made with organic ingredients.
-Free of any synthetic or artificial ingredients, detergents, parabens, sodium laurel sulfate, phthalates, EDTAs, chemicals, mineral oils, and petroleum ingredients.
- Free of pesticides, synthetic chemicals, chemical fertilizers, herbicides, or growth agents.
-Free of fillers, slipping agents, glycols, silicones, dyes, or preservatives.

-Never tested on animals.