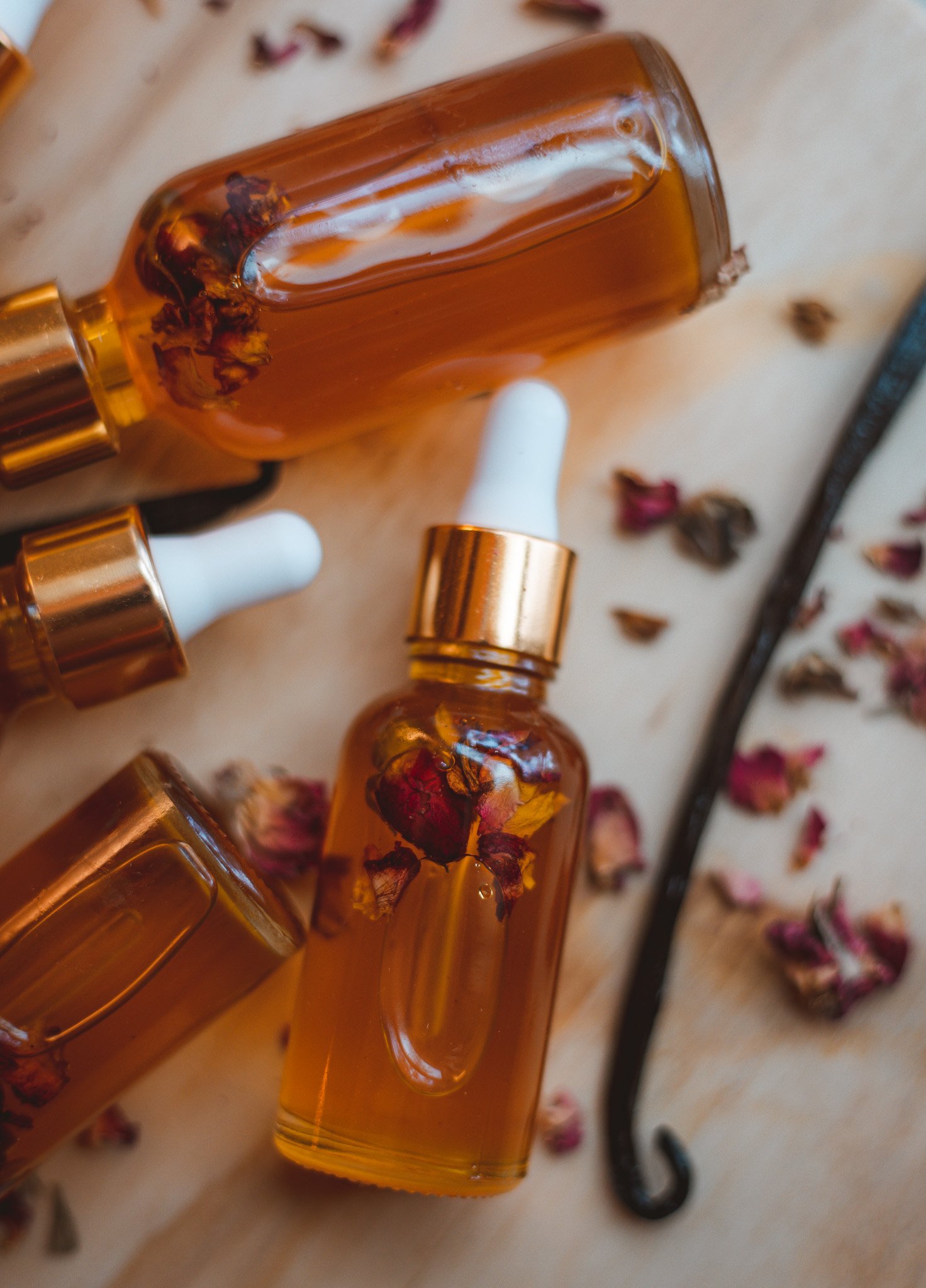 Cherish Body Oil
Cherished • verb•
a) protect and care for lovingly.
b) to hold dear : feel or show affection for.
I wanted to do something to encourage some form of self-love in the way of skincare. Do we cherish ourselves? More often than not, the answer is no. As women, we give most of our time and energy to those we love, forgetting or putting off caring for ourselves. For me, this year is about prioritizing caring for my body, my mind, and my soul, and one aspect includes skincare spa days.
This body oil includes herbal infused oils of calendula, rose, vanilla, and sandalwood with jojoba & avocado, St. John's Wort and sea buckthorn oils to hydrate winter skin but also get to the heart of YOU and help you to calm and center in moments of need. Let me tell you a little bit about each of these!
Sandalwood is gifted with anti-microbial and nourishing properties making it an excellent cure for skin issues such as acne, rashes, ulcers, sunburn, dryness and more. This old Indian superstar ingredient holds secrets to give you brighter, clearer, and more radiant skin. Sandalwood is also helpful in getting rid of scars from wounds, blemishes, dark spots and eczema. Sandalwood is rich in antioxidants that prevent skin sagging and the consequent formation of wrinkles. Ayurveda reveres it for its anti-ageing properties that can make skin firmer, while also reversing sun damage. Isn't that amazing?!
Rose has a variety of vitamins, antioxidants, and minerals and is fantastic for tackling dry skin. It also offers astringent properties, making it an excellent combatant of acne, redness, and inflammation. Roses are full of anti-aging properties as well as Vitamins A, C, D, and E, which help minimize wrinkles and fine lines. While roses are great for all skin types, it is especially great for dry skin due to its extremely moisturizing properties that can help to soothe itchiness. Even for those who do not suffer from dry skin, the hydration that roses provide can be extremely beneficial, as it helps to balance the hydration in the skin.
Vanilla is very rich in antioxidants which neutralizes free radicals and reverses skin damage. It helps to slow down signs of aging like fine lines, wrinkles, and age spots. It not only makes your skin rejuvenated but also smelling lovely. It is also a good source of B-vitamins like niacin, thiamin, Vitamin B6 and pantothenic acid which play an important role in the maintenance of healthy skin.
Calendula can help soothe contact dermatitis, eczema, and acne breakouts from free radicals caused by harmful environmental conditions. A well-known benefit of calendula extract is its ability to help reduce irritation, particularly for those with already sensitive skin. Calendula's skin-soothing benefits can likely be attributed to its anti-inflammatory properties and ability to limit trans-epidermal water loss, which in turn strengthens the skin's defenses against potential irritants. It has been shown to reduce both the visible symptoms and feel of skin irritation and discomfort.
St. John's Wort reduces redness, lightens age spots, tones the skin, and plumps fine lines. It treats burns and scrapes by boosting blood flow to the affected area. When in creams it helps keep open wounds clean by killing microorganisms. It has also been known to help sooth sensitive skin. A perfect skincare addition for those with acne prone skin.
Sea Buckthorn Oil is one of the most powerful antioxidants, bolstering skin's defenses against harmful UVA and UVB rays. Vitamin C also brightens skin and evens out skin tone —and who doesn't want a fresh glow? The berries' deep, bright orange color is a giveaway that they're rich in alpha- and beta-carotene, which produce vitamin A (aka nature's retinol). This is especially helpful for aging skin. Vitamin A helps reduce fine lines and bolsters vitamin C for a more even skin tone.
Myrrh facilitates the fading of unwanted blemishes on the skin, soothes itchiness, and reduces symptoms of eczema among other skin ailments. It effectively cleans, moisturizes, and tightens the skin, thereby reducing and preventing further chapping, cracking, and sagging.
How to use:
Put a couple of drops on your fingertips then warm into your hands. Rub gently on your entire face with upward strokes. Use a couple more drops if needed. Use twice a day, in the morning and at night. Can be used all over body and especially helpful on damp skin after shower or baths.
Ingredients:
Organic cold pressed jojoba, avocado and olive oils infused with sandalwood, vanilla bean, St. john's wort, rose petals and calendula flowers, organic cold pressed sea buckthorn oil, essential oils of myrrh, vanilla, sandalwood, magnolia.