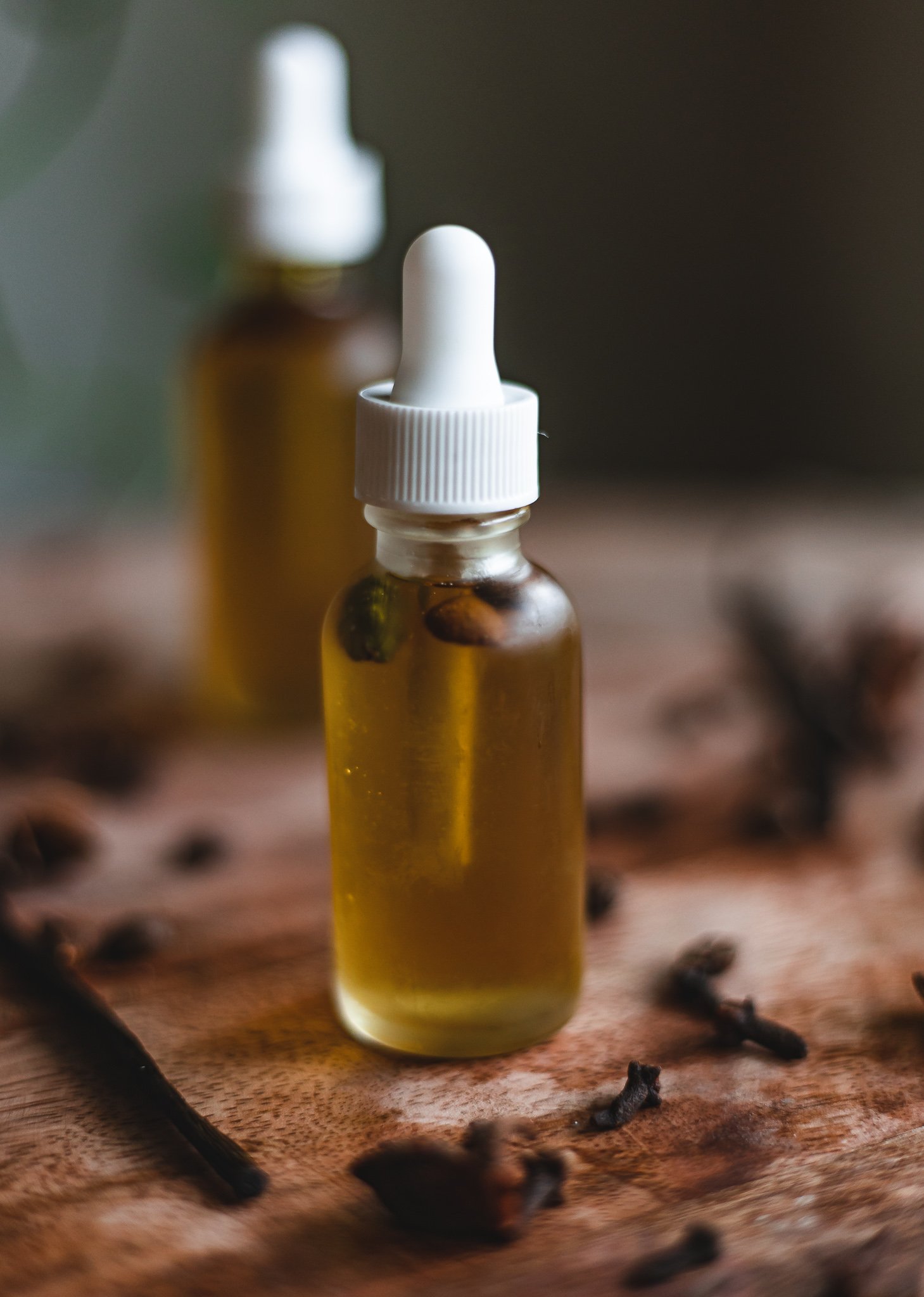 $
28.00 -
$
40.00 —
Sold out
Coffee Crumb Cake Body Oil
Is there a way to fully embody the crisp, spicy and sweet autumn spirit than to smell like it all day with botanical skincare!?
This is an all-natural, organic body oil that has the intoxicating scent of a sweet and spicy crumb cake with a side of warm coffee. An artful blend of aromatic herbs infused into avocado oil that deeply hydrates and heals the skin as you inhale the sweet, creamy, and slightly spicy scent of autumn. The warming spices in this hydrating oil make it perfect for cold-weather moisturizing. This oil not only smells delightful, it's also medicinal and warming to the body and can help in so many ways!
Ginger is a great herbal remedy not only for warming up cold limbs in the wintertime, but for easing menstrual cramps, nausea, inflammation, arthritic pain and body aches. Ginger has pain reducing effect and can be used topically to relieve body pain.
Green Cardamom is highly beneficial for your health and skin due to its antibacterial and antioxidant properties. The spice helps treat skin allergies and improves skin complexion. It can also be used as a tool to cleanse the skin.
Star Anise has exfoliating, anti-acne, skin whitening, and moisturizing effects, which can be helpful in treating skin problems. Not only this, but it also has anti-inflammatory, anti-aging, and antifungal properties.
Clove helps in preventing and clearing out the existing acne along with reducing redness, pain, blemishes and marks. It helps in drawing out impurities from the pores, thus preventing future breakouts.
Cinnamon is reputed to calm dry skin, effectively alleviate aches, pains, and stiffness in the muscles and joints, address acne, rashes, and infections, enhance circulation, nourish the skin, slow the look of aging, and revive the skin tone.
Vanilla has been researched & used for its antioxidant, anti-inflammatory, anti-bacterial, wound healing, cosmeceutical and many other bioactive properties. Vanilla may help reduce signs of ageing by protecting skin cells from free radical damage.
Pumpkin Seed Oil contains high amounts of zinc, selenium and vitamin E that help with skin renewal and improved skin tone. With minimal clogging of pores, the oil readily absorbs into the skin, leaving it hydrated and renewed. The vitamin C in the oil helps the production of collagen that retains skin elasticity while also plumping and building firmness of the skin.
How to use:
Massage into wet skin after bathing for best absorption. Applying after a body scrub, dry brushing, or using a loofah will increase absorption as well.
Ingredients:
Organic cold pressed avocado oil infused with cinnamon, tonka bean, clove, vanilla beans, cardamom, ginger, star anise, cold pressed pumpkin seed oil, vitamin E and essential oil blend containing: Coffee CO2, Tangerine, Orange, Cinnamon, Mandarin, Coconut CO2, Vanilla CO2, Nutmeg, Ocotea, Peru Balsam, Clove, Cardamom, Ginger CO2, Black & Pink Pepper, Damiana, Fenugreek CO2.
NOTES:
- Skin Test: apply a small amount on the inside of your forearm to check for sensitivities.
- For external use only.
- Keep away from eyes
This product is :
- Always made with organic ingredients.
-Free of any synthetic or artificial ingredients, detergents, parabens, sodium laurel sulfate, phthalates, EDTAs, chemicals, mineral oils, and petroleum ingredients.
- Free of pesticides, synthetic chemicals, chemical fertilizers, herbicides, or growth agents.
-Free of fillers, slipping agents, glycols, silicones, dyes, or preservatives.

-Never tested on animals.