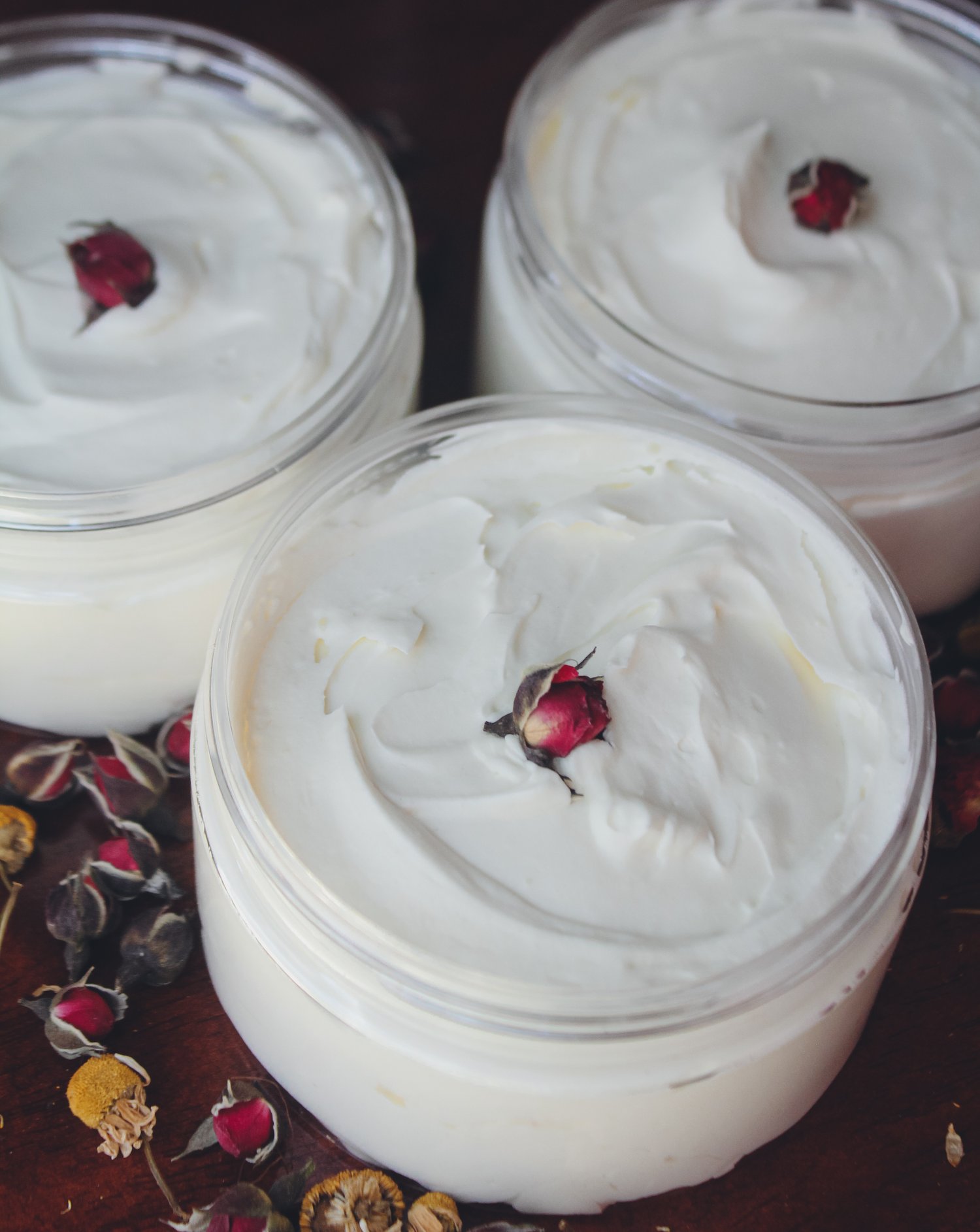 $
16.00 -
$
46.00 —
Sold out
Flower Child Body Butter
There is nothing more luxurious than homemade bath and body products that are fresh, natural and organic. This beautiful combo is a base of two butters and two oils which make for a smooth and silky cream when gently melted, chilled and then whipped together.
Shea butter also has high concentrations of fatty acids and vitamins but also has anti-inflammatory and healing properties.
Kokum butter is loaded with vitamins like A and E, essential fatty acids, and natural antioxidants, This butter can be extremely nourishing to both the hair and skin.
Jojoba Oil has anti-inflammatory properties which help to tame chaffing and chapping, reduce redness caused by drying, ease the effects of eczema and rosacea, and keep skin calm and comfortable.
Lavender contains vitamins, antioxidants and cleansing properties which improve skin health!
Rose Petals not only have a lovely relaxing aroma but also contain vitamins and antioxidants which can help soothe and repair the skin!
All of these flowers have strong floral scents that are relaxing and calming for not only the skin but also the mind.
This luscious dreamy butter leaves your skin feeling so smooth and soft without any of the greasy aftermath! Just use a little bit on dry skin and rub in until it melts into you. It is hand whipped and made with love.
Ingredients:
Organic raw unrefined African shea butter, extra virgin cold pressed organic avocado, jojoba oils infused with dried organic rose & jasmine flowers,
Jasmine, lavender, rose geranium, ylang ylang essential oil.
*I understand that warmer weather may cause butters to melt. I do add beeswax and in some of them a harder butter like KOKUM but it MIGHT occur! If this does happen, pour into a bowl, stir well and place in the fridge for about 30 minutes. You can then whip it back up. It might not be the same consistency as it began but it will 100% still be as medicinal and beneficial. I cannot do returns or refunds on melted butters and these do cost me quite a lot of ingredients to create. Xoxo.
NOTES:
- Skin Test: apply a small amount on the inside of your forearm to check for sensitivities.
- For external use only.
- Keep away from eyes
This product is :
- Always made with organic ingredients.
-Free of any synthetic or artificial ingredients, detergents, parabens, sodium laurel sulfate, phthalates, EDTAs, chemicals, mineral oils, and petroleum ingredients.
- Free of pesticides, synthetic chemicals, chemical fertilizers, herbicides, or growth agents.
-Free of fillers, slipping agents, glycols, silicones, dyes, or preservatives.

-Never tested on animals.