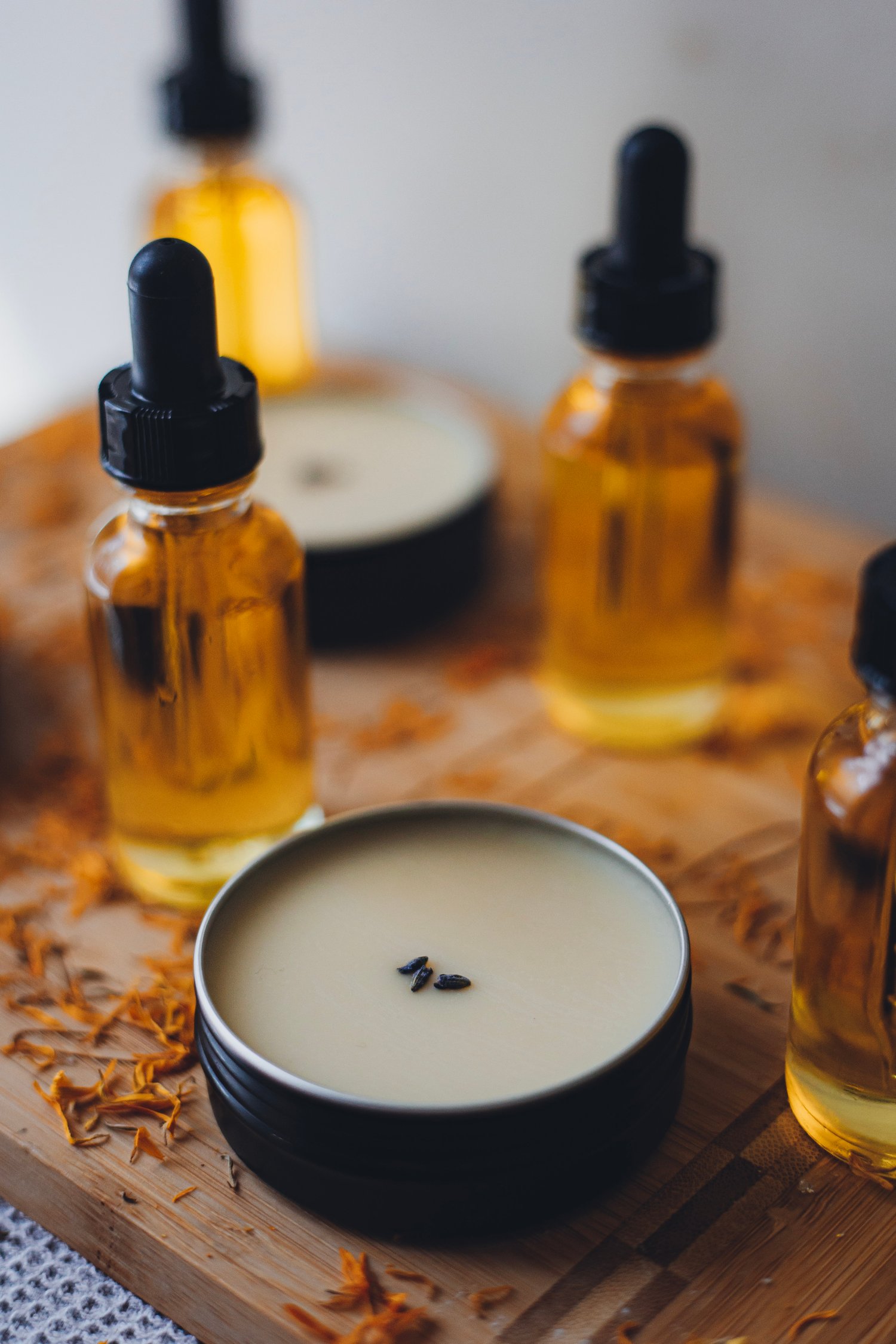 $
30.00 -
$
50.00 —
Sold out
Gentle Baby Oil & Balm
This oil & balm set is a must have in your gentle, healing baby product arsenal. This began as a simple, slow infusion of organic calendula flowers and marshmallow root in avocado and jojoba oils for 6 weeks, making for a potent but gentle medicine for the everyday skin irritations to bigger things like cuts, burns and minor wounds. Completely essential oil and toxin free, this will make a great addition to any mommas medicine kit!
Calendula is considered by many to be a miracle ingredient in skincare for all ages and all skin types. There have been many people experience healing from a range of skin conditions including wounds, radiation burns, dermatitis, and so much more. Calendula oil is wonderful for babies as it is anti-inflammatory and antiseptic so it can help with many issues that might arise like diaper rash or cradle cap. Given a baby's skin is extra sensitive, it's pretty cool that a study in 2012 found that calendula oil was significantly more beneficial in treating nappy rash than aloe vera!
Marshmallow root can be extremely beneficial for babies skin as it is anti-inflammatory and helps to ease skin lesions, boils, burns, cuts, sores and wounds of all kinds. It can also boost the cells immunity, making the skin healthier than it found it! It helps to soothe redness, relieves inflammation, and helps retain moisture. This thick, mucilage has been used to treat skin burns and insect bites while adding hydration and coating to all skin ailments.
Avocado oil is a monosaturated fat that can stimulate collagen production in skin cells, can kill potentially harmful bacteria, help wounds to heal faster and reduce inflammation. The oleic acid in avocado oil penetrates deep into your dermis, the second layer of your skin, sending the avocado's nutrients directly to your skin cells. Avocado oil can help to keep your baby's skin hydrated while also nourishing the skin cells with vitamins and minerals. This will keep your love bugs skin healthy and hydrated.
Jojoba oil is safe to use from head to toe, and it's ideal for the face and scalp. It can even help heal baby acne, dry spots, and chapped skin. It is a proven anti-inflammatory that relieves irritation and also helps repair damaged skin. Using jojoba oil for diaper rash helps heal chapped, tender bottoms. It moisturizes and gently cleans, allowing your baby to have a tears-free diaper change. Because jojoba oil is anti-inflammatory, it's perfect for babies and toddlers with sensitive or reactive skin.
The Baby Balm is also made with raw unrefined shea and kokum butters which are rich and creamy, and packed with essential fatty acids to keep your baby's skin happy and protected. They are great natural moisturizers that you can feel good about using in babies' daily skin care routine to reinforce their skin's natural barrier. Besides making the skin incredibly soft, these butters contains antifungal and anti-inflammatory properties.
How to use:
Use oil or balm after bathing as an all over moisturizer. Can use balm after each diaper change or after bath to soothe dry, irritated, chafed, or sensitive skin. The oil is wonderful to use for baby massage, for minor rashes, cuts and skin irritations and both effectively relieve cradle cap and diaper rash. *MAY PURCHASE SINGLE OR AS A SET. SETS ARE MADE TO ORDER.*
Ingredients:
Oil - Organic dried Calendula Flowers and Marshmallow Root infused into cold pressed Golden Jojoba, Olive oil and avocado oils.
Balm - Organic dried Calendula Flowers and Marshmallow Root infused into cold pressed olive and avocado oils, organic raw unrefined shea and kokum butters, beeswax.
NOTES:
- Skin Test: apply a small amount on the inside of your forearm to check for sensitivities.
- For external use only.
- Keep away from eyes
This product is :
- Always made with organic ingredients.
-Free of any synthetic or artificial ingredients, detergents, parabens, sodium laurel sulfate, phthalates, EDTAs, chemicals, mineral oils, and petroleum ingredients.
- Free of pesticides, synthetic chemicals, chemical fertilizers, herbicides, or growth agents.
-Free of fillers, slipping agents, glycols, silicones, dyes, or preservatives.

-Never tested on animals.