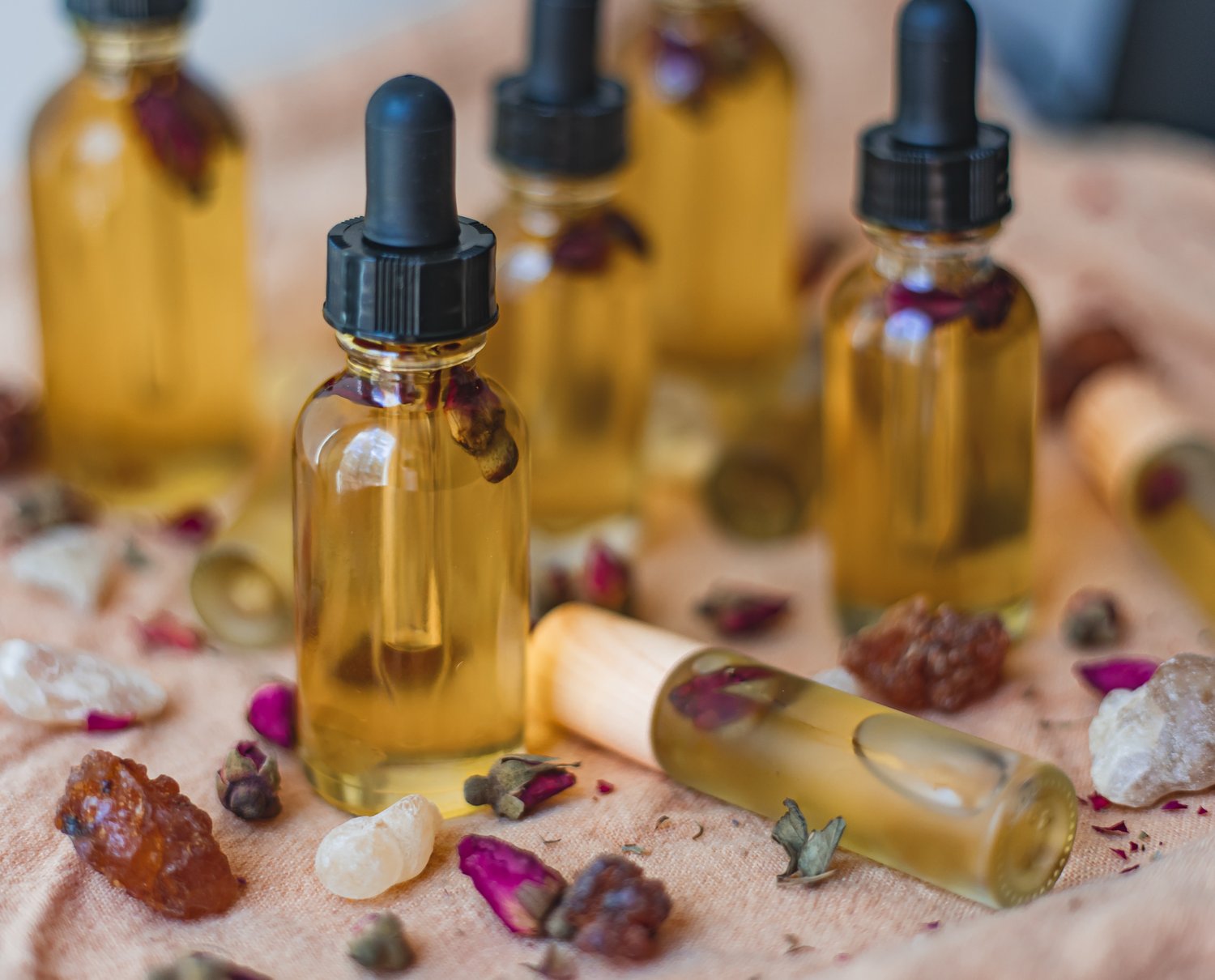 Glistening Goddess Serum
An oil inspired by a friend, this one is truly fit for a goddess! Made with oils infused with the most healing ingredients, no essential oils and an deep intention of love, I hope this blesses you as much as it has blessed me!
Roses have the most intoxicating scent and are the perfect mood-lifter. Their delicate petals are soft and beautiful, but more impressively, they possess amazing beauty benefits. Because of roses antiseptic, anti-inflammatory, and antimicrobial properties, rose infused oil can leave skin feeling healthy, moisturized, and can even help fade blemishes.
Calendula is ideal for sensitive, oily, and acne-prone skin. Full of anti-inflammatory and antimicrobial properties, it can help to get rid of dark spots, blemishes, acne, and acne scars. Even more, it can restore skin elasticity, and provide a smooth and soft texture.
Yarrow extraction is healing and soothing, deeply nourishing and restorative to the skin. Its healing properties can be used in wound healing, acne, or enhancing hair or scalp. It possesses antibacterial, anti-inflammatory and astringent properties that allow tightening of the skin, remove excessive oils and smooth fine lines and wrinkles. It also helps to shrink the pores and reduce acne.
Frankincense is known for it's powerful anti-inflammatory properties that sooth skin and reduce the appearance of blemishes. It can help to reduce wrinkles and fine lines. It is a natural astringent that helps regenerate healthy skin cells and keep existing tissue healthy and strong. For thousands of years people have used frankincense to lift, tone, and tighten their skin, prevent wrinkles, reduce dark spots, heal and prevent acne, and more. No wonder queens of years ago used to bathe in all forms of this amazing herb! And how could we forget that it was one of the gifts given to baby Jesus from the Three Wise Men. Truly special stuff.
Myrrh is thought to have anti-inflammatory and antioxidant activity. Studies have found that it increases collagen production as well as inhibiting elastase, the enzyme that breaks down proteins in the skin. Due to this it is thought to be a promising anti-wrinkle ingredient. Some studies have also suggested it may have some anti-cancer effects.
How to use:
Warm a few drops in hands and press over clean face in an upward motion after cleansing both day and night.
Ingredients:
Organic cold pressed avocado and jojoba oils infused with rose petals, calendula, yarrow, frankincense and myrrh resin.
NOTES:
- Skin Test: apply a small amount on the inside of your forearm to check for sensitivities.
- For external use only.
- Keep away from eyes
This product is :
- Always made with organic ingredients.
-Free of any synthetic or artificial ingredients, detergents, parabens, sodium laurel sulfate, phthalates, EDTAs, chemicals, mineral oils, and petroleum ingredients.
- Free of pesticides, synthetic chemicals, chemical fertilizers, herbicides, or growth agents.
-Free of fillers, slipping agents, glycols, silicones, dyes, or preservatives.

-Never tested on animals.