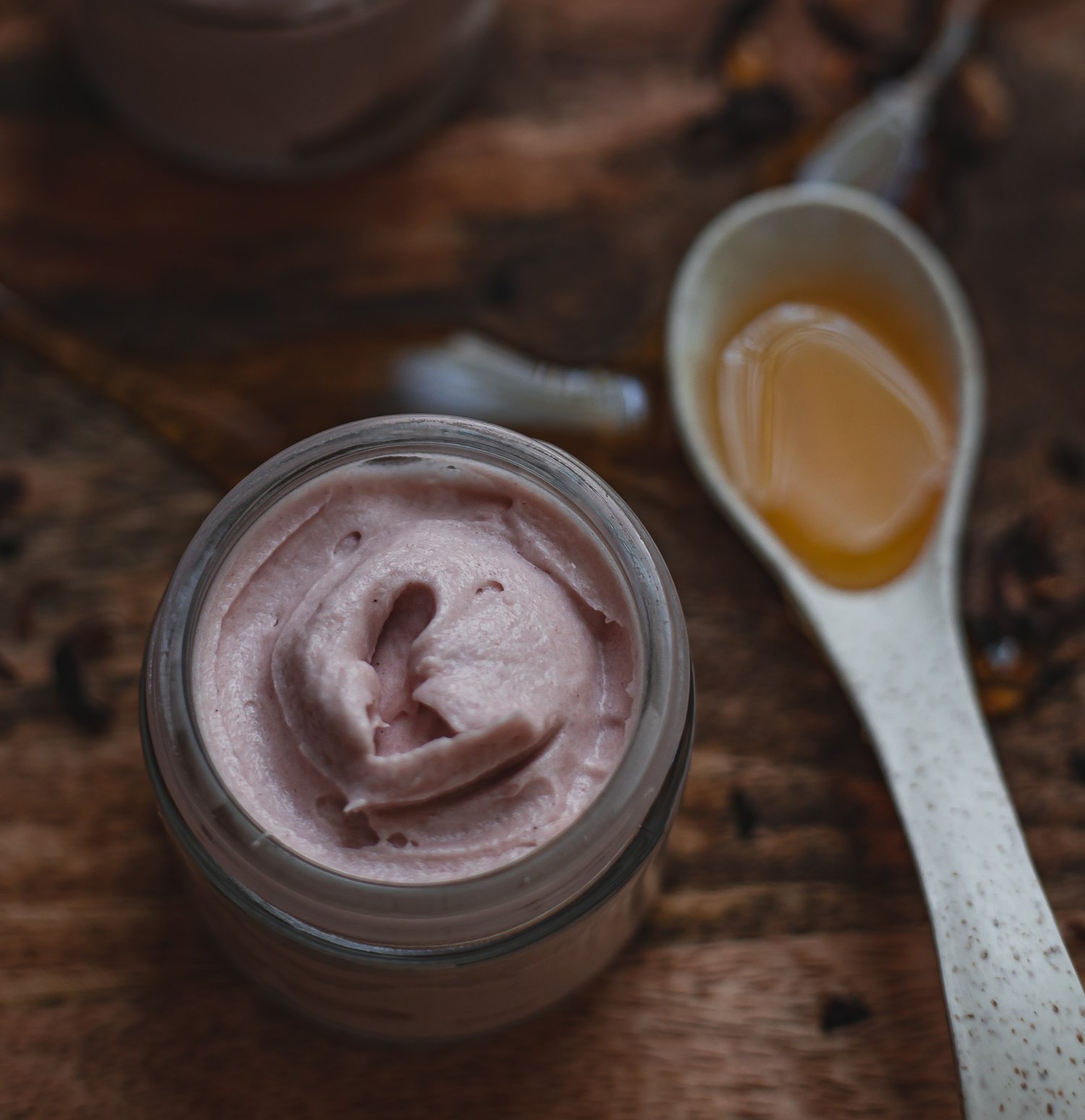 Hibiscus Honey Tallow Creme
This beautiful peachy colored herbal infused cream is a gentle, hydrating facial moisturizer made for those with dry, sensitive or maturing skin.
Tallow is packed full of the nutrients your skin craves and needs to heal, like vitamins A, D, E, K, essential minerals, conjugated linoleic acid (a natural anti-inflammatory), and palmitoleic acid (a natural anti-microbial). Because tallow has a similar fatty acid profile to human skin, it absorbs instantly, creates a protective barrier and leaves skin feeling supple and nourished.
Organic hibiscus, honey and vanilla bean are deeply infused into grass fed tallow, then whipped into a pale pink cloud with St. John's Wort and Sea Buckthorn oils. It is great for dry skin, helping to provide hydration while supplying fatty acids Omega 6 & 9, UV protection, high levels of vitamins A & C, and cell regeneration.
Hibiscus is not only beautiful, nutritious, and delicious, it is super powerful for the skin. You often can hear hibiscus referred to as "nature's botox" and can be traced back to being used 6,000 years ago in Sudan, China & Egypt. Rich in antioxidants called anthocyanocides, hibiscus can help fight free radical damage and help slow the aging process by firming the skin through its power to inhibit elastase activity, which breaks down our elastin. Not only does this help with age spots, but it can also help even out skin tone.
Raw Honey is abundant in antioxidants, polyphenols, live enzymes and phytochemical compounds that hydrates and visibly plumps skin. It's also very hydrating, increasing moisture to dry damaged skin. It also helps even out skin tone, while promoting healthy skin cell regeneration.
How to use:
It can be used as a day or night cream depending on your skin type. If you have dry or normal skin, then it can be used in the day as needed. If your skin is oily then you can use it at night before bed. A little goes along way, nickel-sized amount is perfect.
Ingredients:
Organic grass-fed tallow infused with ground hibiscus & vanilla beans, organic cold pressed avocado oil infused with chamomile flowers, raw honey, vitamin E, geranium essential oil.
* COLOR MAY VARY DEPENDING ON TALLOW and HERBAL INFUSIONS *
NOTES:
- Skin Test: apply a small amount on the inside of your forearm to check for sensitivities.
- For external use only.
- Keep away from eyes
This product is :
- Always made with organic ingredients.
-Free of any synthetic or artificial ingredients, detergents, parabens, sodium laurel sulfate, phthalates, EDTAs, chemicals, mineral oils, and petroleum ingredients.
- Free of pesticides, synthetic chemicals, chemical fertilizers, herbicides, or growth agents.
-Free of fillers, slipping agents, glycols, silicones, dyes, or preservatives.
-Never tested on animals.