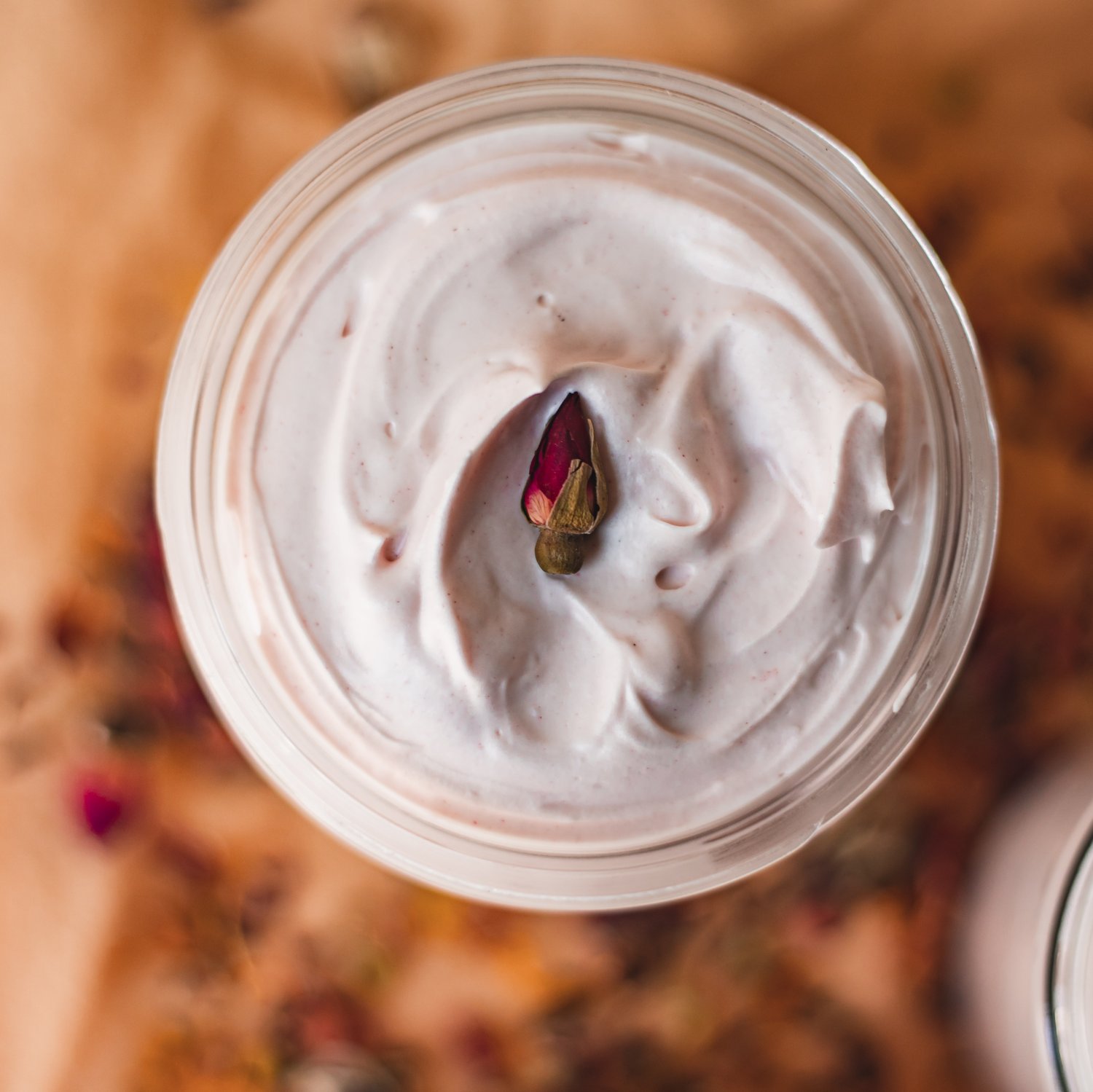 $
20.00 -
$
38.00 —
Sold out
Hibiscus Rose Skin Soufflé
I'm dedicated to infusing my life with love these days and rose is has been something I've gravitated to often. Whipped body butter might be one of the most popular ways to incorporate them into your skincare regime and gain all the benefits with every slather!
Rose is full of antioxidants that help to strengthen skin cells, which in turn, can help regenerate skin tissues. On top of this, the antioxidants in roses work to neutralize free radicals, which can provide anti-aging benefits to the skin as well. While roses are great for all skin types, it is especially great for dry skin due to its extremely moisturizing properties that can help to soothe itchiness. This romantic ingredient has tons of anti-inflammatory benefits, which can help reduce the appearance of redness on the skin. Part of its moisturizing properties also aid in soothing redness and irritation in the skin, as well.
Hibiscus helps to purify your skin by breaking down dead skin and increasing cell turnover, they can even help to control acne breakouts. Not only does this help with age spots, this can encourage an all round fresher, younger, smoother looking complexion. It is wonderful at exfoliating, renewing, and rejuvenating your skin!
St John's Wort has antibacterial, antioxidant, and antiviral properties. When applied to the skin, St. John's Wort treats burns and scrapes by boosting blood flow to the affected area. When in creams it help keep open wounds clean by killing microorganisms. It has also been known to help sooth sensitive skin.
Tallow is a powerful moisturizer loaded with a wealth of nutrients, essential fatty acids and antioxidants. Tallow contains the same fats or lipids found in healthy, supple human skin. Lipids are found in abundance in the membrane of every cell in our bodies. They are responsible for the free flowing of liquids (aka moisture) in and out of our cells.
Kokum butter is loaded with good fats that hydrates the skin, is anti-microbial, anti-inflammatory, and the antioxidants help to promote healthy aging and reduce visible signs of stress.
This light, all natural & organic butter, will melt into your skin, leaving it feeling soft, smooth, and smelling wonderful.
Ingredients:
Organic dried Egyptian hibiscus flower, calendula & St John's Wort infused organic avocado, olive, coconut & jojoba oils, organic unrefined organic virgin unrefined kokum butter, organic grass fed tallow, organic beeswax, organic rose infused glycerin and rose geranium essential oil.
*I understand that warmer weather may cause butters to melt. I do add beeswax and in some of them a harder butter like KOKUM but it MIGHT occur! If this does happen, pour into a bowl, stir well and place in the fridge for about 30 minutes. You can then whip it back up. It might not be the same consistency as it began but it will 100% still be as medicinal and beneficial. I cannot do returns or refunds on melted butters and these do cost me quite a lot of ingredients to create. Xoxo.
NOTES:
- Skin Test: apply a small amount on the inside of your forearm to check for sensitivities.
- For external use only.
- Keep away from eyes
This product is :
- Always made with organic ingredients.
-Free of any synthetic or artificial ingredients, detergents, parabens, sodium laurel sulfate, phthalates, EDTAs, chemicals, mineral oils, and petroleum ingredients.
- Free of pesticides, synthetic chemicals, chemical fertilizers, herbicides, or growth agents.
-Free of fillers, slipping agents, glycols, silicones, dyes, or preservatives.

-Never tested on animals.