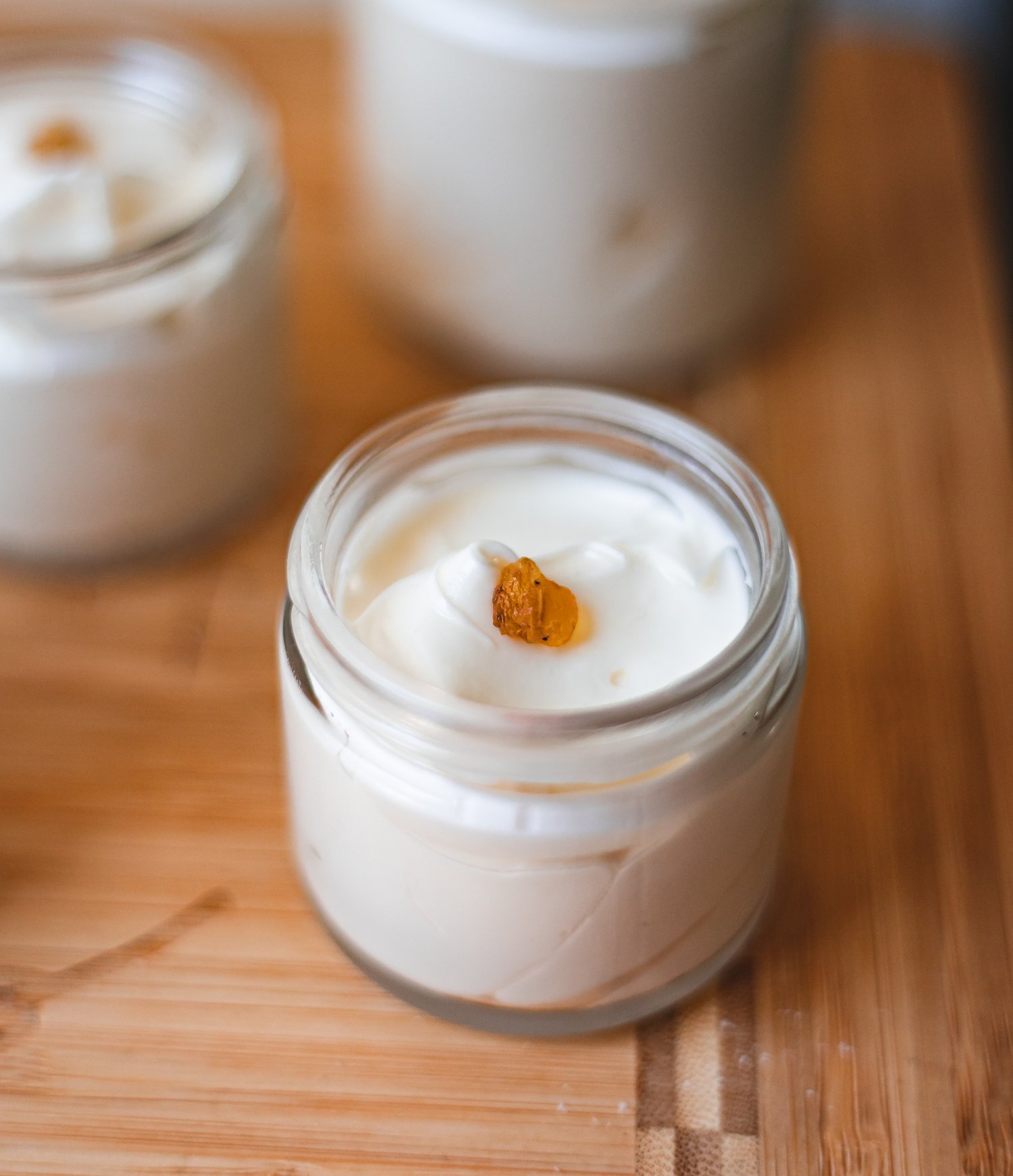 $
28.00 -
$
60.00 —
Sold out
Holy Glow Tallow Creme
The ultimate, all in one moisturizer. Tallow is great for soothing skin conditions like eczema + psoriasis, helping heal dry, cracked skin, using as a tattoo balm, on sunburned skin, to your basic, daily moisturizer! I love using it on my face especially, it is soothing and deeply restorative!
The tallow is from organic, pasture-raised, grass-fed + finished cows. Our skin reacts to tallow on a cellular level, happy to absorb it since it's from an animal with a similar makeup, versus how our skin responds to plant-based oils, which are still great for you! Combined with the healing properties of frankincense and myrrh, you got yourself a quality, clean product that'll leave your face awakened and feeling fresh.
Frankincense is dried tree sap that comes from trees of the Boswellia. The tree sap is harvested from the trees. Cutting the tree's bark causes the sap to ooze out of the cut. The sap used to create both frankincense and myrrh comes slowly and is allowed to dry on the tree. The hardened sap is collected and used as frankincense essential oil or resin for various purposes. The resin has a long history of use, from Ayurveda to Traditional Chinese Medicine. Frankincense is known to be antimicrobial, astringent, expectorant, antifungal, stimulant, carminative, stomachic, anti-catarrhal, diaphoretic, vulnerary, antiseptic, immune booster, circulatory, tonic, anti-inflammatory, and an antispasmodic medicine. This oleo-gum-resin from the Boswellia tree has been prized for thousands of years for its extensive medicinal properties. Cosmetically, frankincense is known to support aging skin, rejuvenation, and skin elasticity. This is an absolutely beautiful oil to use on your face, and will leave your skin feeling so soft and supple!
Myrrh resin comes from the rich red sap of the exotic African myrrh tree that grows in northeast Africa and parts of Asia. It has natural anti-microbial, anti-inflammatory and anti-fungal properties that the Chinese used for eczema and minor skin irritation for centuries. It is a powerhouse against dry, inflamed and aging skin. The secret is terpenes like skin-soothing limonene, bacteria-fighting germacrene, anti-fungal curzerene and magnesium.
TO USE:
Apply sparingly to your body for healthy, soft skin. Good for all skin types. Store in a cool, dry place for maximum longevity. You can use this as a makeup remover by applying liberally to your face and rub in. Gently wipe off whipped tallow along with makeup. You may wash off any excess with soap and water if desired.
Due to this being an animal source of skincare, if you don't think you will use it all within 6 months, you could store it in the refrigerator for an indefinite amount of time. For best results, store in a cool, dark place. Make sure to leave the product tightly capped and use only clean, dry fingers or a clean spoon to apply it to your skin. When you expose dirt or water to any natural product that could introduce bacteria into the product.
Ingredients:
Organic grass-fed tallow infused with frankincense and myrrh, organic cold pressed avocado oil infused with frankincense and myrrh, beeswax.
It can be used as a day or night cream depending on your skin type. If you have dry or normal skin, then it can be used in the day as needed. If your skin is oily then you can use it at night before bed. A little goes along way, nickel-sized amount is perfect.
NOTES:
- Skin Test: apply a small amount on the inside of your forearm to check for sensitivities.
- For external use only.
- Keep away from eyes
This product is :
- Always made with organic ingredients.
-Free of any synthetic or artificial ingredients, detergents, parabens, sodium laurel sulfate, phthalates, EDTAs, chemicals, mineral oils, and petroleum ingredients.
- Free of pesticides, synthetic chemicals, chemical fertilizers, herbicides, or growth agents.
-Free of fillers, slipping agents, glycols, silicones, dyes, or preservatives.

-Never tested on animals.