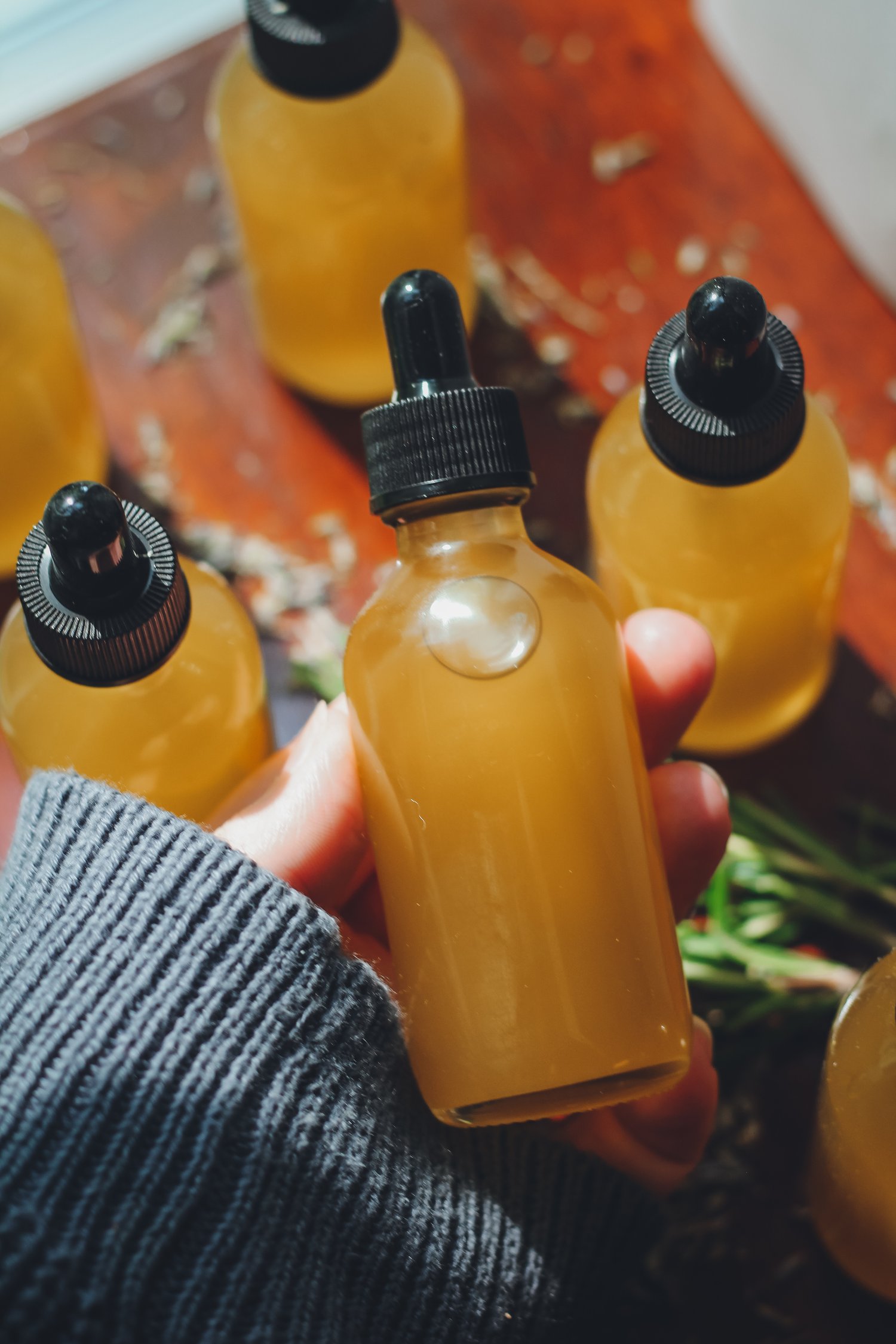 $
28.00 -
$
60.00 —
Sold out
Botanical Hair Growth Oil
Awaken your hair follicles with this special blend of powerful everyday herbs infused in Organic Oils. They nourish, pH balance, stimulate and boost hair growth from the scalp. The high-quality ingredients deeply absorb into the hair shaft. It is perfect for those suffering from hair loss, excess shedding, dry, itchy scalp and breakage. Can be used on ALL hair types.
Hibiscus can be your magic remedy if you suffer from hair loss, premature greying, thinning, dandruff, frizz, dryness, breakage or split ends. It is loaded with various beneficial ingredients that help to stop hair loss and prevent baldness. Loaded with vitamin C, flavonoids, amino acids, mucilage fiber, and antioxidants, the extract of hibiscus leaves and flowers nourishes your hair, promotes hair growth, and provides a soft & silky texture.
Rosemary stimulates and improves circulation to the scalp thus encouraging hair growth, has antibacterial qualities that gently cleanses hair, increases shine, and relieves irritated, dry, flaky, dandruff ridden scalps.
Horsetail contains silica, which is thought to improve hair growth speed and strength along with potentially reducing dandruff. Silica promotes the structural integrity of the hair; it improves its sheen and texture also. Horsetail is high in selenium, which helps your body process iodine, thus regulates hair growth (a deficiency in selenium, for example, can lead to slow or stopped hair growth). Additionally, horsetail contains a treasure trove of other good stuff that contribute to its medicinal properties: potassium, aluminum salts, alkaloids, bitters, saponins, flavonoids, and aconitic acid
Nettle has a long-standing reputation for preventing hair loss and making hair shiny and beautiful. It contains high amounts of anti-inflammatory and antioxidant properties that can help protect our scalp from damage and stimulate new hair growth. Nettle leaves are also rich in minerals like iron, magnesium, and zinc, which can all give our follicles a great boost. Another superb thing about nettle is its ability to dilate and strengthens the blood vessels – which mean the hair follicles will receive more nutrients and oxygen. As a result, your hair will grow stronger and healthier.
Lavender works as a balancing oil. So if your scalp is overly dry or oily, lavender can bring it towards normal, which is beneficial for healthy hair growth. It is useful in scalp conditions such as dandruff, eczema, psoriasis and acne. With it's antiseptic, anti-inflammatory and antimicrobial properties, lavender soothes and heals the scalp, and thereby reduce hair fall.
Calendula is full of several B vitamins, vital minerals and antioxidants that foster the growth of thick hair. Massaging the scalp with calendula oil stimulates the hair roots or follicles and ensures the growth of robust, dense and silky tresses. It is a powerfully restorative and moisturizing ally when applied to the scalp and hair.
Jamaican Black Castor Oil castor is a natural solution for hair growth. An age-old remedy long used in traditional medicine, castor oil is also said to moisturize the scalp, ease dandruff, and leave your hair smooth and shiny. Castor oil is rich in ricinoleic acid—a type of fatty acid found to fight inflammation. When applied to the scalp, it's purported to enhance the health of the hair follicles and, in turn, promote hair growth, as well as protect against hair loss.
Some of the benefits of using a hair growth serum include:
~ can be used to moisturize dry, and brittle hair.
~ can be used on chemically treated hair, natural hair, over-processed hair.
~ stops hair breakage
~ helps with both men and women baldness, hair loss
~ helps stops thinning which occurs on the top and crown of the head,
~ can help to regrows edges
Directions:
Apply to the scalp evenly with a dropper and massage gently. Apply 2-4 times per week (twice a day for faster results). This oil can also be added to shampoo, pre-poo treatment, or conditioner. I like to add a few dropper fulls into my hands at the end of the application process and rub into the ends of my hair as well.
Ingredients:
Organic cold pressed avocado & jojoba oils infused with organic herbs of rosemary, horsetail, hibiscus, lavender & calendula, organic cold pressed hexane free Jamaican black castor oil.
NOTES:
- Skin Test: apply a small amount on the inside of your forearm to check for sensitivities.
- For external use only.
- Keep away from eyes
This product is :
- Always made with organic ingredients.
-Free of any synthetic or artificial ingredients, detergents, parabens, sodium laurel sulfate, phthalates, EDTAs, chemicals, mineral oils, and petroleum ingredients.
- Free of pesticides, synthetic chemicals, chemical fertilizers, herbicides, or growth agents.
-Free of fillers, slipping agents, glycols, silicones, dyes, or preservatives.

-Never tested on animals.