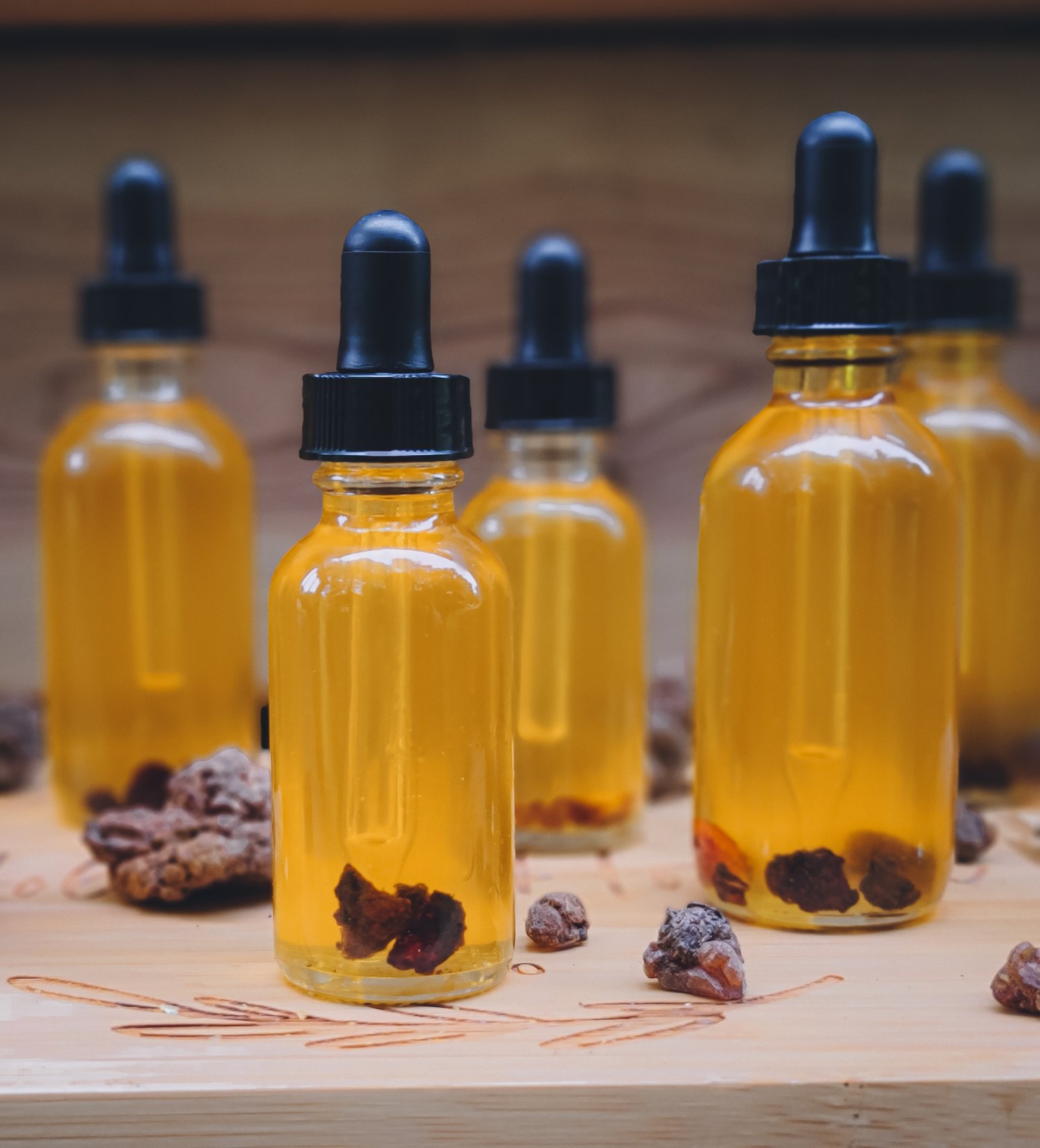 $
28.00 -
$
52.00 —
Sold out
Myrrh & Marshmallow Oil Cleanser
Oil cleansing is a wonderful way to remove the first layer of dirt, grim, make-up, and excess sebum buildup without stripping or damaging the skin as many facial cleansers do. Contrary to popular belief, cleansing the face with oil will not irritate the skin nor will it cause acne, especially when using the correct oils on your face. You will have fewer, if any, breakouts, and your skin won't feel dry or stretched because its natural protective oils remain. It might seem crazy, but oil dissolves other oil; by rubbing it into the skin, the cleansing oil loosens the 'bad' oil that has hardened and lodged in the pores. This formulated oil has been created by using delicate oils resembling your own sebum. I created 2 options for both the dry and oily skin types! Whatever type of skin you have, this will leave your skin moisturized, clean, radiant and most importantly, without a greasy residue! When using the proper oils, you are actually feeding, hydrating, nourishing and most importantly protecting your skin from potential ailments and harmful ingredients.
Slow infused herbs inside:
MYRRH RESIN comes from the rich red sap of the exotic African myrrh tree that grows in northeast Africa and parts of Asia. It has natural anti-microbial, anti-inflammatory and anti-fungal properties that the Chinese used for eczema and minor skin irritation for centuries. It is a powerhouse against dry, inflamed and aging skin. The secret is terpenes like skin-soothing limonene, bacteria-fighting germacrene, anti-fungal curzerene and magnesium.
MARSHMALLOW may provide anti-inflammatory benefits as it helps to soothe irritation as it hydrates skin, possesses antimicrobial and anti-inflammatory properties. It is an emollient with moisturizing and hydrating properties that are great for soothing skin irritations like acne, puffiness, and can even slow down the signs of aging!
Nourishing, cleansing oils inside:
*2 VERSIONS* available that BOTH have a base of infused AVOCADO oil.
AVOCADO OIL dissolves both facial oil and dirt, without stripping away the precious fatty layer that balances skin, leaving your skin clean and balanced. It is rich in essential fatty acids (EFAs) and Vitamins A, B1, B2, D, and E and wonderful for sensitive skin.
OILY SKIN FORMULA ADD INS:
CASTOR OIL is a ricinoleic acid and works to inhibit many viruses and bacteria and is able to penetrate skin tissue deeply. It is also an astringent oil that assists in deep cleansing for oily, acne prone skin. It has strong cleansing, healing, and anti-inflammatory properties and can purge the pores.
BAOBAB OIL is rich in antioxidants that help to preserve collagen. In addition to locking in moisture for soft skin, baobab oil keeps fine lines and wrinkles at bay by protecting against collagen breakdown. If you have oily, acne-prone skin, it seems like the last thing you would want to do is put even more oil on your face. However, baobab oil is actually good for oily skin. It's lightweight, doesn't clog pores, and moisturizes your skin to prevent the production of excess oil that leads to acne. Plus, baobab oil is gentle enough for sensitive skin and won't cause irritation.
DRY SKIN FORMULA ADD INS:
COCONUT OIL can have a strong hydrating effect which helps keep skin moisturized. This is beneficial for normal or combination skin types but especially so for those with dry skin. Coconut oil also has anti-inflammatory properties and can be suitable for eczema sufferers. It is also effective at removing makeup, dead skin cells and other debris, which helps keep skin healthy and reduces the risk of breakouts.
TAMANU OIL has a higher fatty acid content than many other oils, making it especially beneficial for addressing dry skin. It contains both oleic and linoleic fatty acids, which may give it powerful moisturizing abilities. Not only can it offer major moisture against dryness, but it's also your armor against anti-aging, thanks to its ability to boost collagen production and stop free radical damage in its tracks.
VITAMIN E has been used in many moisturizers because of its deep conditioning properties. It helps reduce the itching and flakiness found in conditions, such as eczema and psoriasis. 
HOW TO USE:
Prepare skin by resting or patting a warm wet washcloth on face to open up pores. Add one full dropper of oil into clean, WET hands and massage onto face in order to dissolve makeup and impurities. Allow to sit for 2-3 minutes then rinse off gently using a soft cloth wet with WARM water. The warmth of the water is important as the steam and heat help to open your pores and allow the oil to deeply cleanse.
If you have dry skin, rub the oil all over your entire face and leave on for 20-30 minutes to allow the oils to be absorbed into the skin. Rinse off as stated above and gently pat face dry. Your skin will not only be soft and supple, but glowing!
INGREDIENTS:
OILY SKIN: Organic cold pressed avocado oil infused with myrrh resin & organic marshmallow root, organic baobab oil, cold pressed hexane free Jamaican castor oil.
DRY SKIN: Organic cold pressed avocado oil infused with myrrh resin & organic marshmallow root, organic cold pressed coconut & tamanu oils, vitamin E.
NOTES:
- Skin Test: apply a small amount on the inside of your forearm to check for sensitivities.
- For external use only.
- Keep away from eyes
This product is :
- Always made with organic ingredients.
-Free of any synthetic or artificial ingredients, detergents, parabens, sodium laurel sulfate, phthalates, EDTAs, chemicals, mineral oils, and petroleum ingredients.
- Free of pesticides, synthetic chemicals, chemical fertilizers, herbicides, or growth agents.
-Free of fillers, slipping agents, glycols, silicones, dyes, or preservatives.

-Never tested on animals.