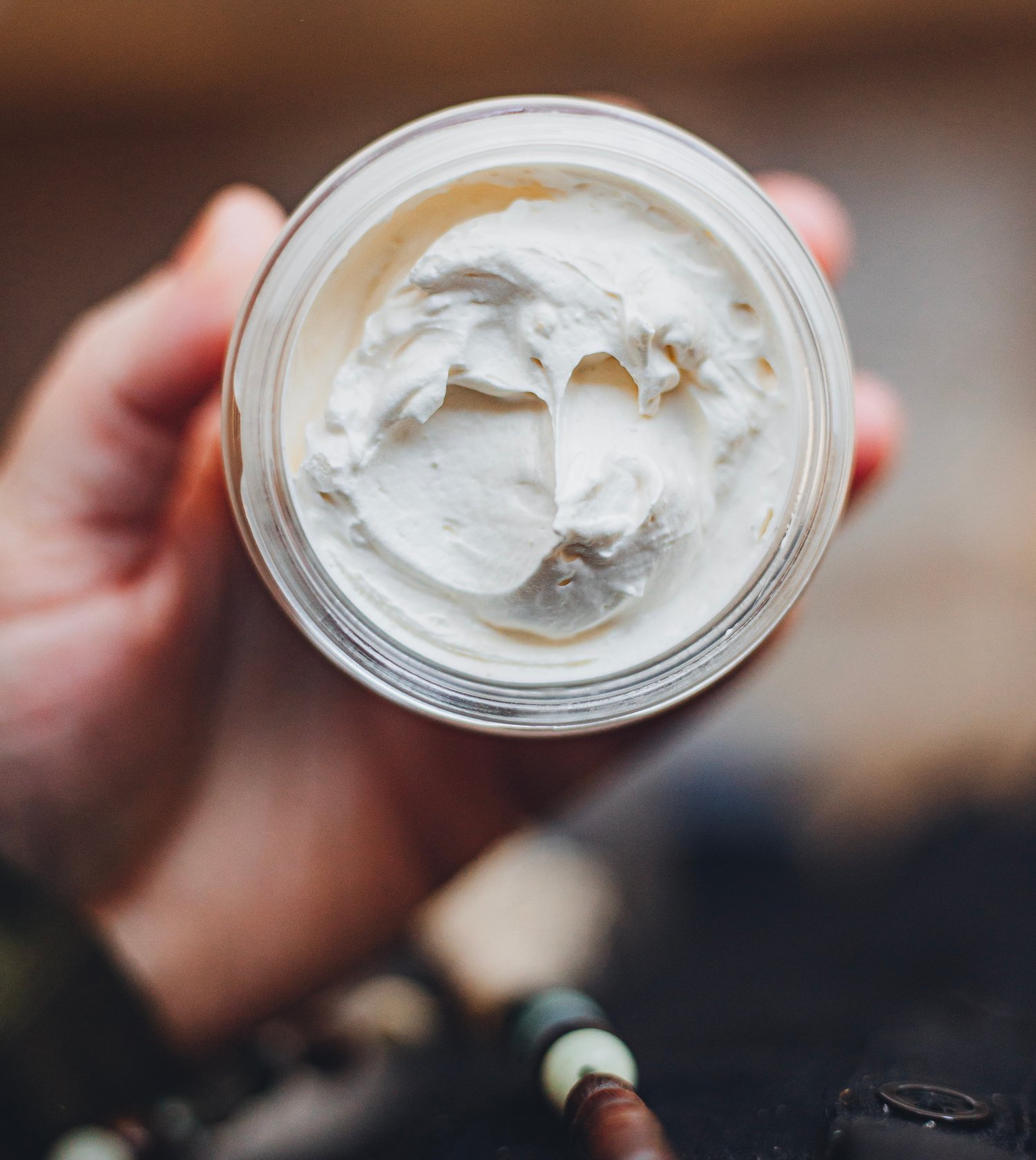 $
22.00 -
$
38.00 —
Sold out
Oats 'N Honey Body Butter
This is a rich, base oil free whipped body butter that is handcrafted in small batches and is an organic, moisturizing blend of whipped butters such as tallow and kokum butter that focus on hydrating and nourishing your skin, instantly relieving your skin of any dry, tight & itchy feeling.
This decadent blend of raw butters, real oats and honey quickly absorb into your skin, quenching it with the essential nutrients your skin is craving. Full of all the antibacterial, anti-inflammatory ingredients that will help those with super sensitive skin and extra dry winter patches.
Here's what is inside:
Grass fed tallow is an intensely hydrating moisturizer that assists in retaining the skins natural moisture. It replenishes the building blocks of our skin that decrease with age. It's non-greasy, won't clog your pores, is long-lasting and 100% natural as it comes from cows! In addition to being full of fat-soluble vitamins, the fatty acids in beef tallow are similar to those found in human skin.
Colloidal oats bind to your skin and locks in moisture, giving your skin a chance to rehydrate. It also softens your skin and soothes itching. Its anti-inflammatory properties make it great for people who have dry skin, because it helps balance your skin's natural pH levels. It can help soothe dry, itchy, inflamed skin—and it does so by helping the skin retain moisture. Moisturizing and protecting the barrier of the skin is paramount in dry skin conditions like eczema (atopic dermatitis) and psoriasis. Please note that there might be some feeling of grit from the oats when you first apply this but it will soak into your skin quickly!
Raw honey is a humectant which helps your skin absorb and retain moisture which keeps it from drying out. Honey is packed with natural antioxidants and anti-microbial properties which help protect, repair and prevent skin damage. Honey is also quite calming to the skin.
Kokum Butter softens the skin and restores its elasticity for a youthful glow. Its light texture doesn't clog the pores, thereby keeping acne at bay. Highly moisturizing, kokum butter helps heal dry and cracked skin especially lips, elbows, knees and soles of feet. It may also aid in improving the appearance of scars and stretch marks. Kokum butter is rich in essential fatty acids, which softens the skin and helps promote elasticity.
Chamomile infused glycerin is an anti-inflammatory flower that again can leave the skin feeling silky soft and helps smooth, soften, and protect skin.
How to use:
Use as an all over moisturizer after bathing or showering. Use as needed.
Ingredients:
Organic grass fed tallow, organic raw unrefined kokum butters, organic colloidal oats, raw Georgia honey, organic chamomile and vanilla infused glycerin, beeswax, vanilla botanical extract.
NOTES:
- Skin Test: apply a small amount on the inside of your forearm to check for sensitivities.
- For external use only.
- Keep away from eyes
This product is :
- Always made with organic ingredients.
-Free of any synthetic or artificial ingredients, detergents, parabens, sodium laurel sulfate, phthalates, EDTAs, chemicals, mineral oils, and petroleum ingredients.
- Free of pesticides, synthetic chemicals, chemical fertilizers, herbicides, or growth agents.
-Free of fillers, slipping agents, glycols, silicones, dyes, or preservatives.

-Never tested on animals.