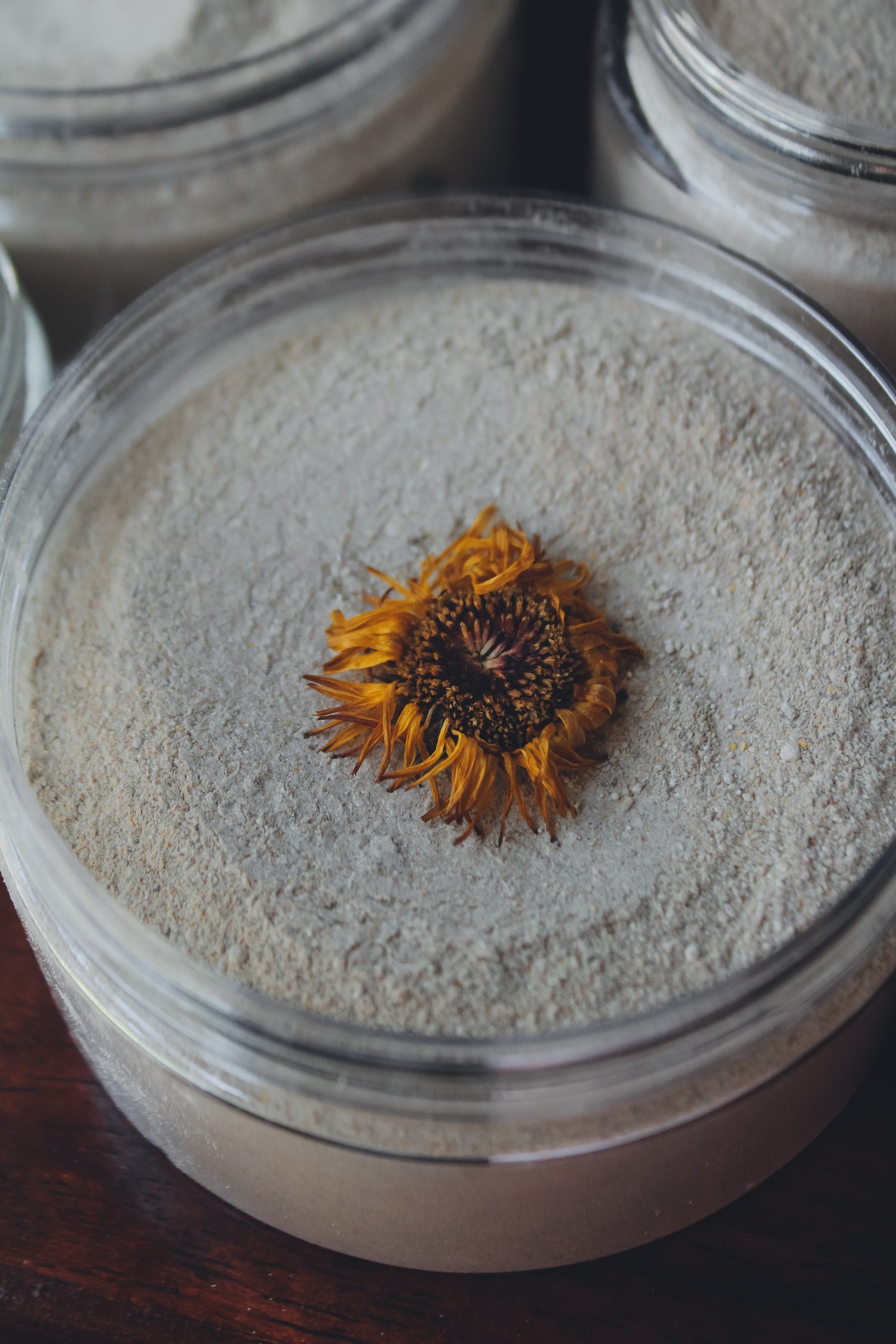 $
20.00 -
$
22.00 —
Sold out
Ray of Sunshine Clay Mask
This mask is full of herbal allies that will help your skin gently detox while also cleansing and moisturizing! I created this mask to not only be for your beautiful face but for your armpits too! It is chock full of wonderful herbs and detoxifiers to help any area of your skin but specifically your face and pits!
Armpit detox masks are the perfect way to speed up your body's natural detoxification process when switching to natural deodorants or to just give your armpits a good refreshment. This process helps detox the armpit area by extracting odor causing toxins trapped deep inside pores. After using armpit detox over a course of a week or so you should notice that you have less odor even without wearing any kind of deodorant! I would suggest using apple cider vinegar on your underarms with the clay to extract as much impurities as possible.
So what's inside?
Calendula is a wonderful herb that has been used for centuries as a medicinal and culinary herb. Mixed with the clay and other ingredients it is going to ease inflamed skin, provide deep cleanse and detoxing, can help clear acne and blemishes, is great for both oily or dry skin and can protect your skin from UV rays!
Turmeric has the potential to reduce inflammation and irritation. It is also helpful in the treatment and prevention of bacteria in the skin that can otherwise contribute to acne cysts. It has anti-inflammatory properties and may also reduce the appearance of acne scars. One component to turmeric for skincare is it's ability to reduce hyperpigmentation! If you have patches of skin that are darker than the normal surrounding tissue, like in your armpits, this is hyperpigmentation. One such study found that a turmeric-based cream reduced hyperpigmentation by more than 14% over the course of 4 weeks!
Oatmeal contains avenanthramides, antioxidant and anti-inflammatory compounds that soothe itchy, dry and irritated skin. It is also great for acne-prone skin because it absorbs oil from the skin's surface. Oats can help treat red, inflamed, or sunburned skin.
Honey can act as an anti-inflammatory and antibacterial, calming angry skin, moisturizing, minimizing dark spots and acne scars. Other skin issues it can help appease include fine lines, excess oil and eczema or rosacea.
White Kaolin Clay is the gentlest of clays and perfect for all skin types, especially dry skin. Kaolin clay provides mild exfoliation while providing deep nourishment and preventing the skin from becoming overly dry like maybe a French green clay might.
Bentonite Clay has deep cleansing & detox properties while also helping to reduce the appearance of pores and blackheads. It's also rich in minerals which brings healing and regeneration to the skin!
How to use:
1. Start with a fresh face (or pits!), wash the area you want to mask before you begin. **I suggest applying a warm towel on your face or pits before using a mask. It helps open up pores and loosen up dirt and oils.**
2. Add 1-2 tsp dry mask to 1-2 tsp liquid of choice. My favorite is rose water but you can use water, aloe vera, milk or even yogurt. I would use ACV in armpits.
3. Using a mask brush or spoon, apply the mask evenly to your face, neck and armpits for a good armpit cleanse.
3. Let the mask *almost* dry, and remove while it's still tacky. If you let the face mask fully dry it will absorb your natural face oils and cause irritation. This will result in additional redness. Remove with a warm face towel.
4. Follow up with a toner like witch hazel or rose water!
5. Apply a moisturizer like Among The Flowers, Coffee & Rose or Renewed Radiance Serums!
And most importantly, don't forget to make this a relaxing experience. I love to do my masks in the morning with coffee before I start my day or at night with a calming bath. Enjoy.
Ingredients:
Organic dried calendula flowers, organic turmeric powder, honey powder, white kaolin clay, bentonite clay and organic powdered rolled oats.
2 ounce = 15
4 ounce = 50
8 ounce = 80
This product is :
- Always made with organic ingredients.
-Free of any synthetic or artificial ingredients, detergents, parabens, sodium laurel sulfate, phthalates, EDTAs, chemicals, mineral oils, and petroleum ingredients.
- Free of pesticides, synthetic chemicals, chemical fertilizers, herbicides, or growth agents.
-Free of fillers, slipping agents, glycols, silicones, dyes, or preservatives.

-Never tested on animals.