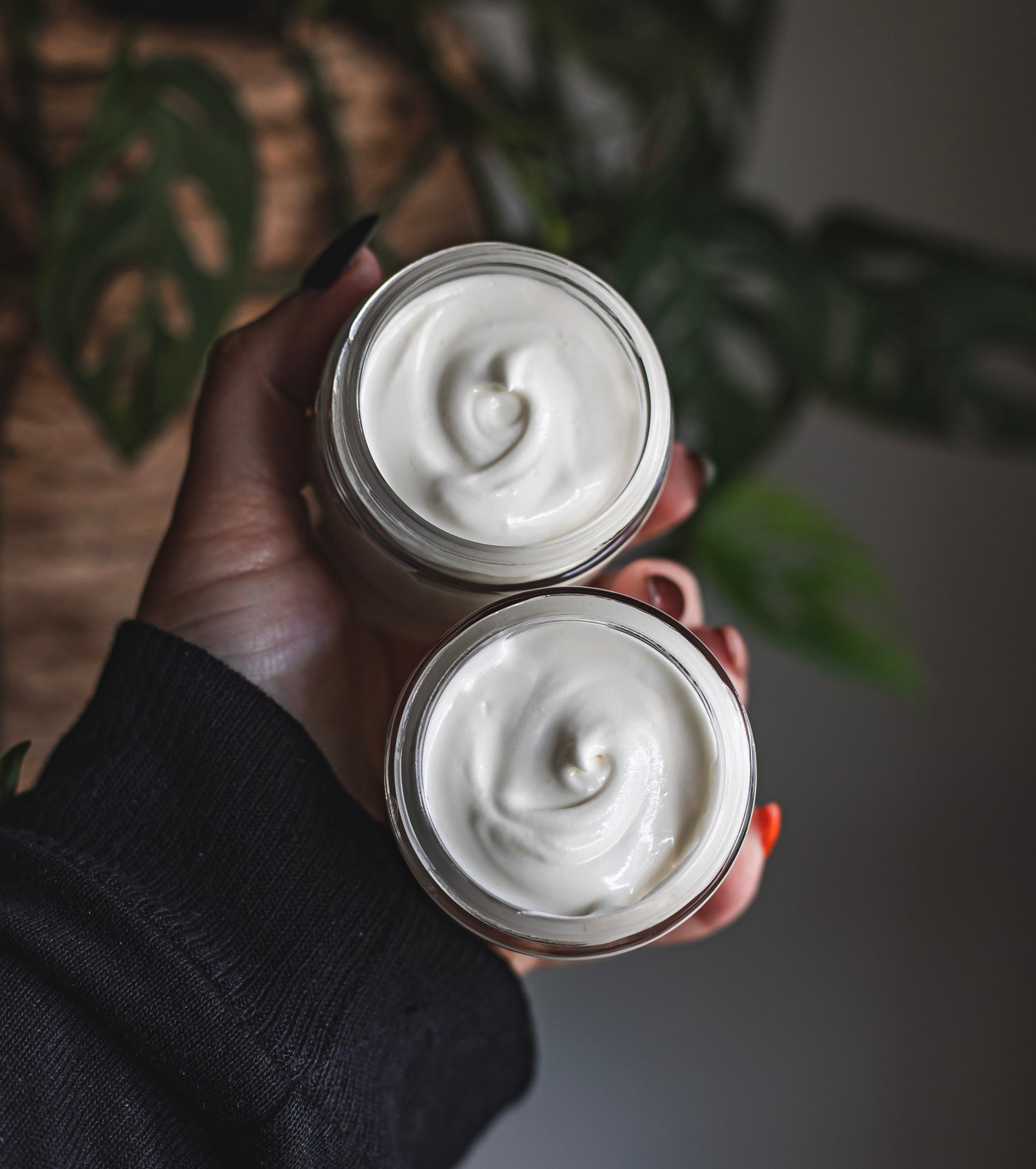 $
32.00 -
$
52.00 —
Sold out
Sacred Body Butter
Sacred: /ˈseɪ.krɪd/ considered to be holy and deserving respect, especially because of a connection with God.
I always feel a little connected with God when I work with the holy resins of frankincense and myrrh. Used in religious and spiritual rituals for thousands of years, frankincense is a symbol of holiness and righteousness. Because it is so fragrant when burnt, it was used by ancient people as a religious offering. In Christian symbolism, frankincense can represent Christ's sacrifice. While the Middle Eastern regions used myrrh ceremonially, the Far East was using it for healing purposes. Ayurvedic medicine, which dates back thousands of years, used myrrh for wound healing, digestive health, and to balance women's issues. It's worth noting that frankincense and myrrh together – both used in temple rituals – comprise a synergistic antimicrobial combination. While both the temple and Jesus' makeshift cradle were filled with aromatic substances, they were also fighting disease and protecting the inhabitants. What joy there is in seeing the beauty of God's design underscored with practical protective measures!
This Sacred butter was formulated for those who need a little extra skin love and suffer from sensitive, dry, cracked and itchy skin. I combined both animal and plant-based fats with an infusion of the holy resins Frankincense and Myrrh and the flower powerhouse Calendula to create something so soothing and calming to the skin, you won't want to be caught without it!
The tallow is from organic, pasture-raised, grass-fed + finished cows. Our skin reacts to tallow on a cellular level, happy to absorb it since it's from an animal with a similar makeup, versus how our skin responds to plant-based oils, which are still great for you! Combined with the healing properties of frankincense and myrrh, you got yourself a quality, clean product that'll leave your face awakened and feeling fresh.
Kokum butter is among the most balanced and nutrient-dense that is high in essential fatty acids. Essential fatty acids like omega-3 and omega-6 help your body sustain healthy skin cell membranes to prevent damage. Because of its emollient properties, kokum butter is easily absorbed by the skin. So, it's healing properties can penetrate deep into the layers of the dermis.
Frankincense is known for its powerful anti-inflammatory properties that sooth skin and reduce the appearance of blemishes. It can help to reduce wrinkles and fine lines. It is a natural astringent that helps regenerate healthy skin cells and keep existing tissue healthy and strong. For thousands of years people have used frankincense to lift, tone, and tighten their skin, prevent wrinkles, reduce dark spots, heal and prevent acne, and more. No wonder queens of years ago used to bathe in all forms of this amazing herb! And how could we forget that it was one of the gifts given to baby Jesus from the Three Wise Men. Truly special stuff.
Myrrh is thought to have anti-inflammatory and antioxidant activity. Studies have found that it increases collagen production as well as inhibiting elastase, the enzyme that breaks down proteins in the skin. Due to this it is thought to be a promising anti-wrinkle ingredient. Some studies have also suggested it may have some anti-cancer effects.
Calendula has nourishing benefits that help to plump the surface of your skin to give you tighter, more supple skin. In the long term, both the anti-inflammatory and antioxidant properties help to protect your skin's collagen and elastin supply. Perhaps the biggest benefit is that it promotes wound healing, making it great for dry skin, eczema, and even acne scarring on the face.
The beeswax contains antiviral, anti-inflammatory, and antibacterial properties, this ingredient can be very helpful for sunburned, chapped, or dry skin. It forms a protective wall by sealing moisture in the skin without clogging up the pores.

Glycerin is great for the skin because it acts as a humectant, which is a substance that allows the skin to retain moisture. It can increase skin hydration, relieve dryness, and refresh the skin's surface. It's also an emollient, which means it can soften skin.
How to use:
When your skin is dry, cracked, red, or sunburned, massage a small amount of the butter into the area of concern. Let it soak into the skin and add more if needed. You can use this butter often to soothe skin.
Ingredients:
Organic grass-fed tallow infused with frankincense and myrrh resins, organic raw kokum butter, organic cold pressed avocado oil infused with calendula, beeswax.
NOTES:
- Skin Test: apply a small amount on the inside of your forearm to check for sensitivities.
- For external use only.
- Keep away from eyes
This product is :
- Always made with organic ingredients.
-Free of any synthetic or artificial ingredients, detergents, parabens, sodium laurel sulfate, phthalates, EDTAs, chemicals, mineral oils, and petroleum ingredients.
- Free of pesticides, synthetic chemicals, chemical fertilizers, herbicides, or growth agents.
-Free of fillers, slipping agents, glycols, silicones, dyes, or preservatives.

-Never tested on animals.