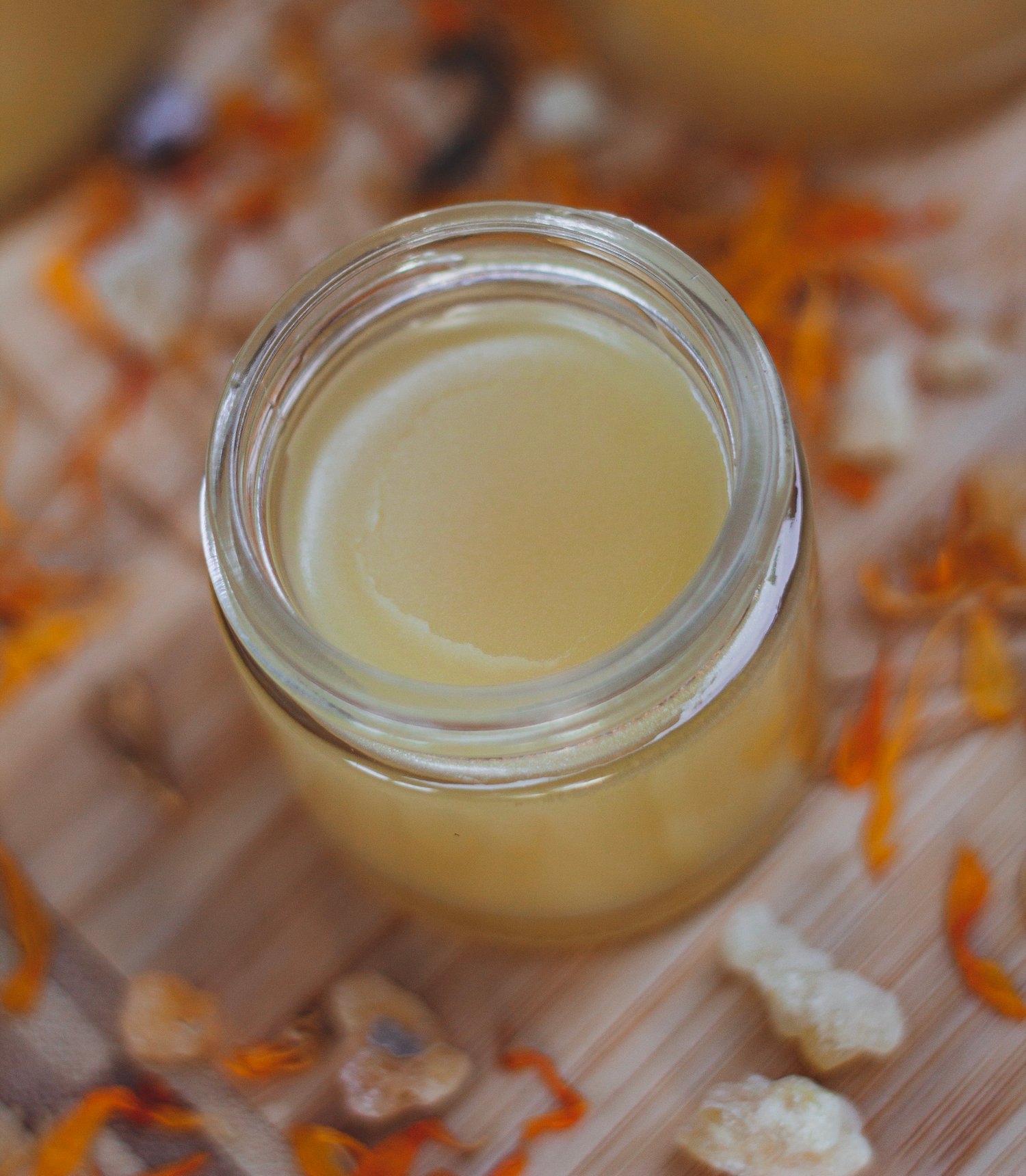 $
16.00 -
$
36.00 —
Coming soon
First Aid Salve
This soothing botanical and super medicinal salve was crafted using both avocado and jojoba oils infused slowly with Maine foraged yarrow by a friend, golden calendula and frankincense resin. It was then added to a blend of mango and kokum butters and beeswax to form a creamy and silky cream that you can use for so many things!
This is what magic is inside:
Calendula has been traditionally used in folk medicine as a top notch wound healer and first aid herb as it help cuts and scrapes heal faster, and prevents scarring and infection. As a natural antibiotic, antifungal, and astringent, calendula is a natural first choice for herbalists and moms, a favorite for diaper rash, thrush, and keratosis, and it's anti-inflammatory properties lend it to use in soothing skin conditions like dry skin, psoriasis, and eczema.
Frankincense resin has been used for centuries to treat Arthritis, inflammation of joints, the urinary and gastrointestinal tracts, pain, ulcers, asthma, bronchitis, coughs, and colds, cuts, and wounds. It is well-known for its cosmetic skin rejuvenating properties, adding elasticity to mature skin and reducing wrinkles. There are a ton of studies that show the Boswellic acids found in the resin of some Frankincense types possess anti-cancer properties!
Lemon Balm is a powerful antiviral, astringent, analgesic, and antispasmodic herb with properties mostly used for the topical treatment of herpes simplex virus (HSV), both oral and genital. It is also helpful in relieving cold sores, shingles, and skin inflammations. It is cooling and calming to any skin irritations.
Shea and kokum butters are saturated vegetable fats which are all packed with vitamins and nutrients and high in antioxidants that seal in moisture to deeply moisturize skin. Shea butter has almost endless topical uses such as helping pre or post sunburn, frostbite, skin rashes, dermatitis, eczema, psoriasis or frizzy hair while also relieving the itchiness from insect bites! Highly moisturizing, kokum butter helps heal dry and cracked skin especially lips, elbows, knees and soles of feet. It may also aid in improving the appearance of scars and stretch marks. Both butters are rich in essential fatty acids, which softens the skin and helps promote elasticity.
HOW TO USE
• Clean skin prior to use.
• With a clean finger, scoop out a small amount & apply to affected area.
• Re-apply as needed.
• Store in a cool/dry place, out of direct sunlight.
Ingredients:
Organic cold pressed avocado and jojoba oils infused with organic dried herbs of lemon balm, calendula and frankincense tears, organic raw unrefined shea and kokum butters and organic beeswax.
NOTES:
- Skin Test: apply a small amount on the inside of your forearm to check for sensitivities.
- For external use only.
- Keep away from eyes.
This product is :
- Always made with organic ingredients.
-Free of any synthetic or artificial ingredients, detergents, parabens, sodium laurel sulfate, phthalates, EDTAs, chemicals, mineral oils, and petroleum ingredients.
- Free of pesticides, synthetic chemicals, chemical fertilizers, herbicides, or growth agents.
-Free of fillers, slipping agents, glycols, silicones, dyes, or preservatives.

-Never tested on animals.