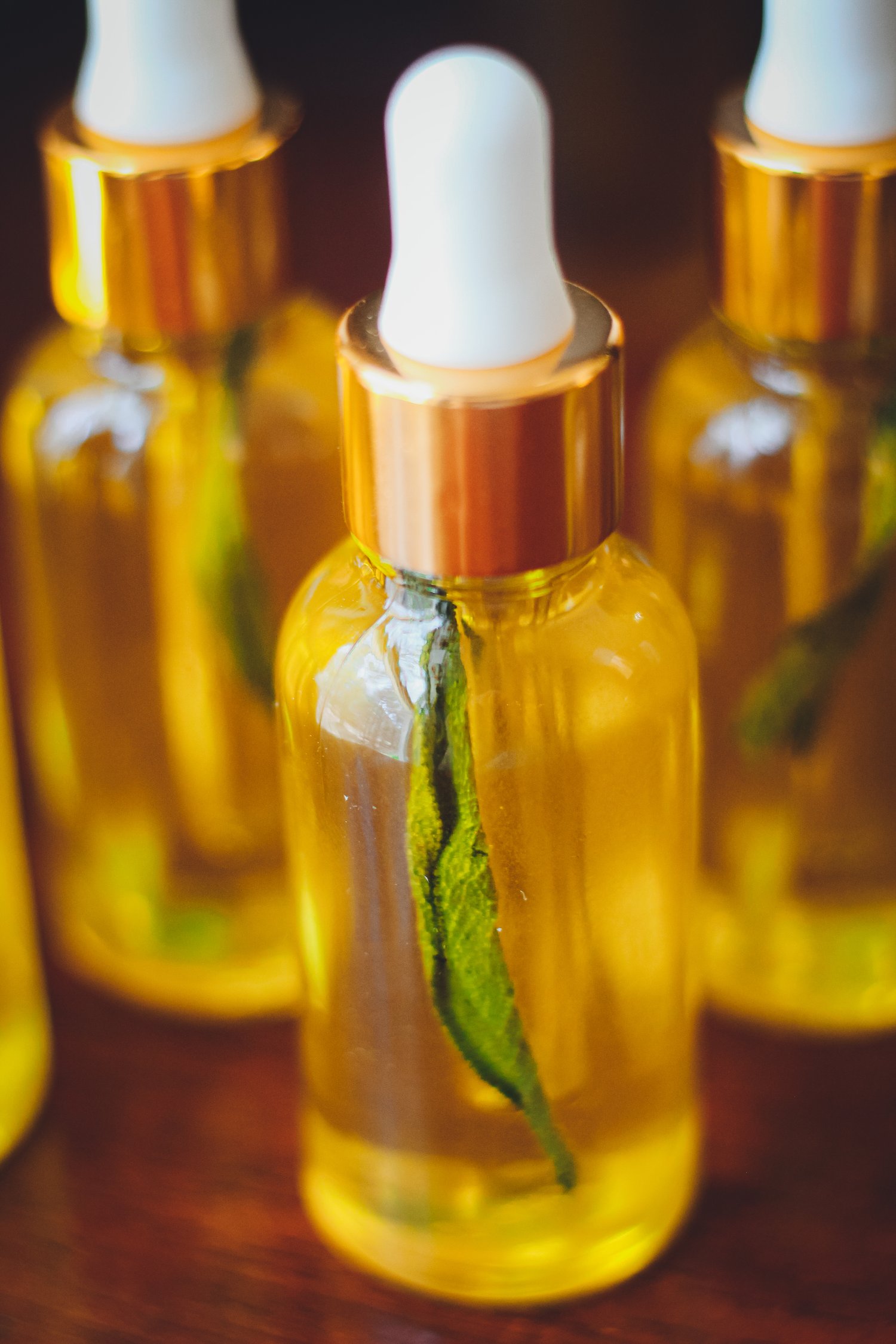 $
16.00 -
$
34.00 —
Sold out
Soothing Sage & Lavender Serum
This facial oil was created for the more oily, acne prone skin types that have to be careful about what they put on their skin. The oil used in this is Jojoba oil, which is actually a wax that very closely resembles the skin's natural sebum. It is non-comedogenic, meaning it will not clog your pores! It helps to both moisturize dry skin but also balance out the natural sebum to control oily skin also!
Interestingly, even for the oiliest of skin, drying things out often makes the problem worse. In fact, facial oils can sometimes be the solution to oily skin – it's just a matter of finding the right blend. Non-comedogenic oils moisturize and nourish without clogging pores (the best ones even help unclog them!) and are an essential ingredient in skincare for all skin types.
Sage's combination of astringent and antiseptic actions makes it ideal for the skin, especially moist, sensitive skin conditions where you see an excess of oil or acne. It tightens tissue which helps to constrict excess sweat and oils. It can reduce inflammation and protects against infections, which is helpful with cuts, burns, sore throats and other conditions where tissue is irritated and healing. A wonderful cleansing herb to help with overall skin health!
Lavender is part of the mint family and if you've noticed, it has a cooling effect. It's like the fan blowing against your skin. And that's what helps to alleviate any red, painful irritations and relieve itching. And it's incredibly cleansing. Lavender comes from the Latin word "lavare" which means to wash. Its antibacterial and antiseptic properties helps with cuts and sores – and keeps your skin clean and clear of breakouts.
Egyptian Evening Primrose Oil - helps to calm symptoms of inflamed skin, dryness, itching, scaling, helps to ease symptoms of eczema or other skin conditions. It has restorative, healing and protective properties for the skin.
Carrot Seed oil is derived from the dried seeds of the wild carrot plant, Daucus carota. This untamed plant has hairy leaves, and lacy white flowers with purple centers. Also called wild Queen Anne's Lace, its origins can be traced back to Egypt, France and India. It has remarkable skin revitalising and toning properties, and it's considered one of the best rejuvenating oils of all time. Often hailed as a miracle oil, Carrot seed gives skin a firmer fresher appearance by helping the body remove toxins and water build-up in the dermal tissue. This oil helps nourish those with dry, mature skin types.
The finished product is a gentle, non irritating or clogging oil that smells of beautiful dried herbs, that cleanses and moisturizes all in one!
Ingredients:
Organic cold pressed jojoba & avocado oils infused with dried organic lavender buds and sage leaves, cold pressed extra virgin Egyptian primrose oil and unrefined organic carrot seed oil.
NOTES:
- Skin Test: apply a small amount on the inside of your forearm to check for sensitivities.
- For external use only.
- Keep away from eyes
This product is :
- Always made with organic ingredients.
-Free of any synthetic or artificial ingredients, detergents, parabens, sodium laurel sulfate, phthalates, EDTAs, chemicals, mineral oils, and petroleum ingredients.
- Free of pesticides, synthetic chemicals, chemical fertilizers, herbicides, or growth agents.
-Free of fillers, slipping agents, glycols, silicones, dyes, or preservatives.

-Never tested on animals.