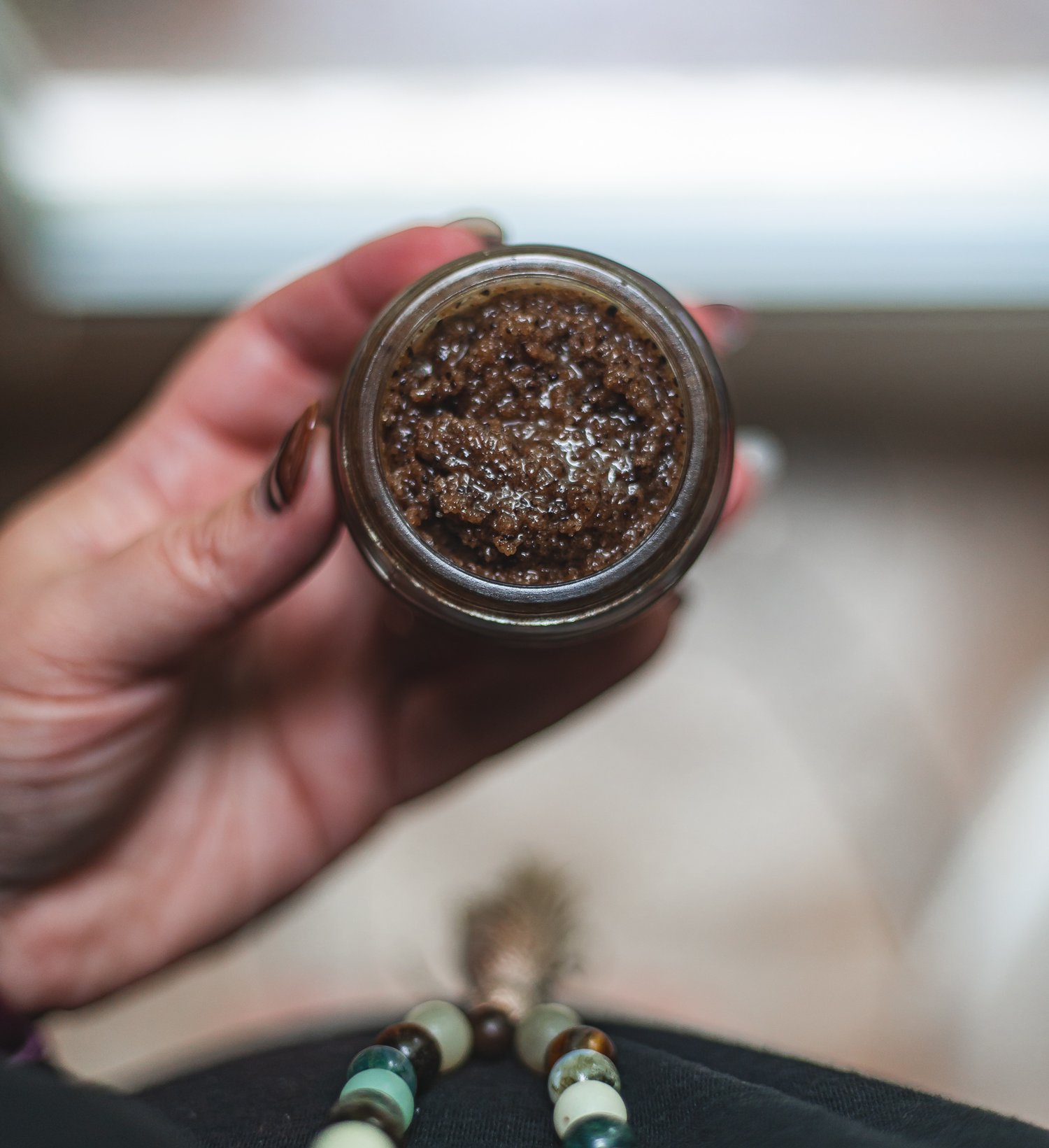 Spiced Coffee Sugar Scrub
This beautifully fragrant scrub combines the amazing skin benefits of organic, grass-fed tallow with the gentle exfoliating treatment of raw, organic sugar & coffee. Absolutely stunning for both the senses and the skin!
On the benefits of using coffee…
Caffeine found in coffee scrubs improves blood circulation, may reduce the appearance of cellulite and gives the skin a more even tone look. When a coffee body scrub is applied, the skin absorbs the antioxidant properties to prevent premature aging. After exfoliating on a regular basis, you will notice the skin is able to absorb moisture more effectively. This will stimulate blood flow, which can help diminish things.
The anti-inflammatory properties coupled with polyphenols and hydro cinnamic acid present in coffee can help reduce inflammation and soothe red, inflamed breakouts. The caffeine present in coffee acts as a stimulant which improves the circulation of blood that moves through your veins. Coffee also contains antioxidants that are good for the skin and can instantly give you glowing, fresh and youthful skin.
Cane sugar makes an amazing abrasive ingredient in scrubs. It's a natural humectant, so it retains moisture and ensures skin is kept hydrated, making it ideal for delicate and sensitive skin, especially because it melts away upon contact with water. Sugar is also known to be a pure, natural source of Glycolic Acid, also known as an AHA, which helps to break down dead, flaky skin and help support cell turnover. It's extremely effective at treating mature skin while still being gentle and non-irritating on sensitive skin. Combined with nourishing oils, this scrub can be used before or during bathing for a thorough exfoliating treatment that leaves skin smooth, soft and supple.
Grass fed tallow contains a unique abundance of nutrients that skin needs in order to be soft, supple, youthful, and hydrated. Tallow is amazing for the face both as a moisturizer, and in the oil cleansing method. Grass fed tallow has some of the best skin healing and moisturizing properties ever to be found.
Avocado Oil is full of antioxidants, vitamins, and fatty acids that work wonders for the skin. It nourishes and moisturizes skin as well as protects it from damage. Avocado Oil contains vitamins A, E, and D and is rich in fatty acid, and in particular oleic acid which promotes production of collagen in skin and helps during skin healing process.
Jojoba Oil contains vitamins B and E, and large quantities of iodine. It moisturizes the skin but also, thanks to its iodine content, it helps in healing wounds and bruises. Due to its ability to balance sebum production, it can help in the treatment of eczema and acne. Jojoba also helps in regeneration of the skin, and it contains high levels of antioxidants. Thanks to its chemical structure it helps hydrate skin by forming a think layer of moisture on its surface without clogging pores.
Ingredients:
Organic cane sugar, organic Peruvian coffee grounds, organic grass fed tallow, organic cold pressed avocado, olive & jojoba oils infused with organic arabica beans, ginger, cinnamon, cloves and orange peel, organic vanilla essential oil.
How to use:
Scoop a small amount and scrub desired areas. I love to wet my hands, legs, arms, face first to help the scrub spread easily. Scrub in circular motions and rinse with warm water. Avoid getting water into the jar and contaminating your scrub, which can contribute to the growth of mold and bacteria.
NOTES:
- Skin Test: apply a small amount on the inside of your forearm to check for sensitivities.
- For external use only.
- Keep away from eyes
This product is :
- Always made with organic ingredients.
-Free of any synthetic or artificial ingredients, detergents, parabens, sodium laurel sulfate, phthalates, EDTAs, chemicals, mineral oils, and petroleum ingredients.
- Free of pesticides, synthetic chemicals, chemical fertilizers, herbicides, or growth agents.
-Free of fillers, slipping agents, glycols, silicones, dyes, or preservatives.
-Never tested on animals.