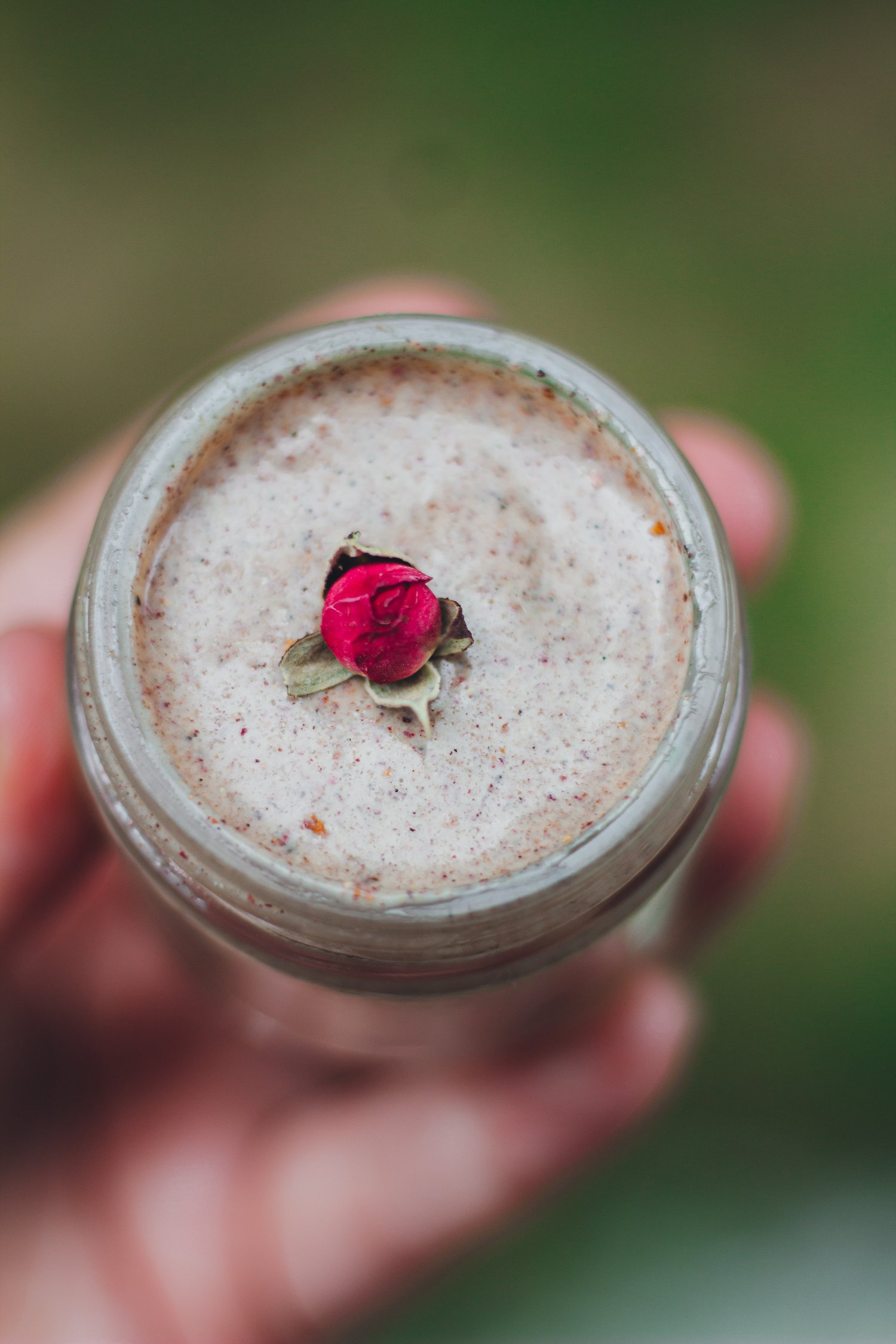 Sweet Ghee Mud Mask
This mask was made in collaboration with my friend Aleya with Wild Rose Ghee and when I say it is magical, I mean IT IS MAGICAL! Did you know you can use ghee outside the kitchen? This may come as a surprise, but ghee can be used in a myriad of ways to support your health on the outside by using it on your hands, cuticles, heels, lips, hair—or any part of your skin, for that matter. When I decided to create something with ghee, I wanted to dreamed up this super hydrating and soothing mask made with a combination of Wild Rose Ghee's Rose Petal infused Grass Fed Ghee, Raw Georgia Honey and other delicious and medicinal ingredients that leaves your face feeling absolutely fantastic! Unlike detox masks, this is a soft, moisturizing and calming facial that won't cause redness or leave your face feeling hot when removed. It simply leaves your face CLEAN and nourished!
Ghee used on the face has been an age-old practice in India. It is rich in Omega 3,6 and 9 which are super-healthy fatty acids. They make the skin supple and even act as antioxidants. It also contains Vitamins A, D, E and K that have multiple benefits for the skin. Vitamin E particularly helps in the production of collagen in the skin. This keeps wrinkles at bay to prevent skin ageing. Ghee has powerful antioxidants that keep wrinkles at bay because of the natural Vitamin E that is very beneficial for skin tightening. It is used to produce and maintain collagen in your skin to prevent wrinkles.
Raw Honey has the ability to absorb and retain moisture and this helps in keeping the skin well hydrated, fresh and supple. It also contains natural antioxidants which provide anti-aging benefits for the skin. I use raw, unprocessed Georgia honey because it has all the pollen, enzymes, propolis, and minerals which are lacking in traditional honey. It is antibacterial, antifungal, and loaded with anti-inflammatory properties that will help to not only moisturize but also cleanse the skin!
White Kaolin & French Green Clays are great options for almost all skin types as it gently draws dirt and build-up out from beneath the surface of the skin and absorbs excess oil that may clog pores. The best clays for mature skin and users with a normal complexion also works as a mild exfoliant.
Colloidal oats are rich in antioxidants and can help reduce inflammation. You can use them to gently exfoliate and cleanse the skin by absorbing dirt and oil. They are often the first ingredient in a mask to treat and soothe red, inflamed, or sunburned skin.
Vanilla has been used to reduce skin infections and in wound healing. Vanilla Bean Extract contains Vanillin, a polyphenol with powerful anti-oxidant properties. Anti-oxidants help to protect against free radical damage and the effects of environmental stresses on the skin. Vanilla also contains B vitamins, including niacin, thiamin, riboflavin, vitamin B6, and pantothenic acid. All of which help to maintain healthy looking skin.
Roses have particular antioxidants help to strengthen skin cells, which in turn, can help regenerate skin tissues. On top of this, the antioxidants in roses work to neutralize free radicals, which can provide anti-aging benefits to the skin as well. While roses are great for all skin types, it is especially great for dry skin due to its extremely moisturizing properties that can help to soothe itchiness. Roses used in the form of an essential oil can also be a great way to moisturize the skin, while protecting it from moisture loss and keeping the moisture barrier strong. Even for those who do not suffer from dry skin, the hydration that roses provide can be extremely beneficial, as it helps to balance the hydration in the skin.
| DIRECTIONS |
Use 1-2 times per week for best results. After cleansing, use 1-2 TBSP & massage onto skin, avoiding the eye area, and leave on for 10-15 min. Test on arm before using on your face if you have sensitive skin. Use spoon or clean utensil to take product out of the jar to avoid bacteria and prolong the shelf life.
Can also use as a cleanser by adding a Tbsp into hands with warm water and massaging all over face to exfoliate then rinse with warm water and moisturize.
Ingredients:
Organic Raw Honey, Organic Grass-fed Ghee infused with rose petals, White Kaolin Clay, Organic Colloidal Oats, Organic Vanilla Bean powder and paste, Organic Indian Sandalwood, Organic Dried Roses, Essential oils of rose absolute, vanilla and sandalwood.
Keep out of reach of children, do not leave in direct sunlight, keep in a cool, dry place, live product, shelf life of 2-3 months.
NOTES:
- Skin Test: apply a small amount on the inside of your forearm to check for sensitivities.
- For external use only.
- Keep away from eyes.
This product is :
- Always made with organic ingredients.
-Free of any synthetic or artificial ingredients, detergents, parabens, sodium laurel sulfate, phthalates, EDTAs, chemicals, mineral oils, and petroleum ingredients.
- Free of pesticides, synthetic chemicals, chemical fertilizers, herbicides, or growth agents.
-Free of fillers, slipping agents, glycols, silicones, dyes, or preservatives.

-Never tested on animals.