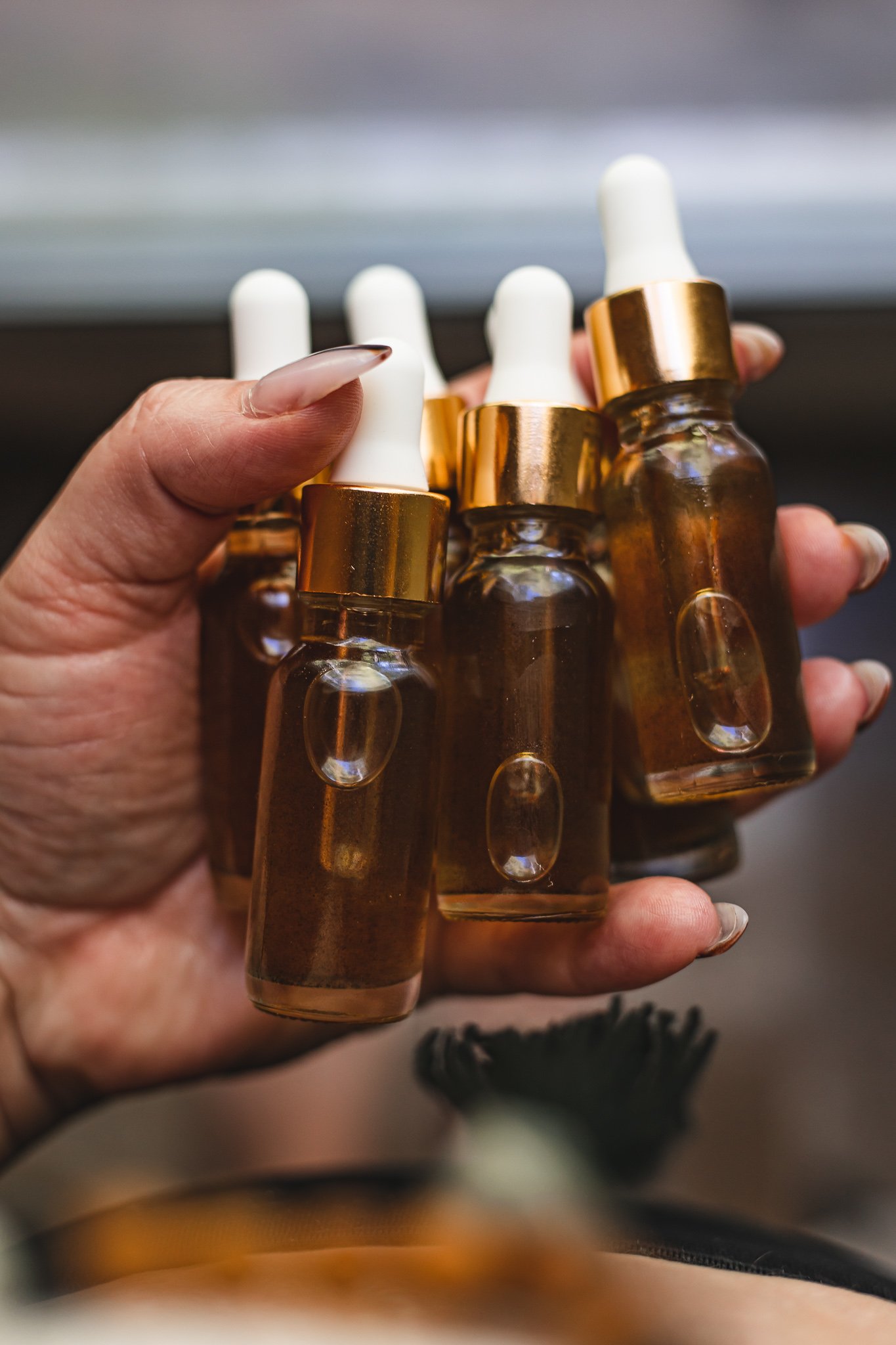 Vanilla Creme Body Oil
This oil is absolutely decadent as it smells of toasted Oreos and feels like luxury!
Vanilla doesn't just smell amazing; it's also fabulous for your skin!
-> Wound healing: Vanilla was used historically to help heal wounds, and today we know that it has anti-inflammatory properties that may help to soothe and calm inflamed areas on the skin.
-> Antioxidant: Vanilla is a great source of natural antioxidants. A 2007 study that profiled the extract found that the antioxidants were significant, stating, "The present study points toward the potential use of vanilla extract compounds as antioxidants for food preservation and in health supplements as nutraceuticals." These natural antioxidants can also help protect skin from environmental assaults that can accelerate aging.
-> Antibacterial: Vanilla can help reduce skin infections—another reason it helps encourage wound healing—and can reduce the bacteria that cause acne.
-> B vitamins: You'll find many of them in vanilla, including niacin, which is a key nutrient in the maintenance of healthy skin.
Roses help retain moisture in the skin, which results in your skin feeling smooth and soft. The sugars in rose petals especially benefit those with sensitive skin. Roses can act as sunscreen because of the rich source of vitamin C! The anti-bacterial properties found in rose makes it amazing for fighting acne and breakouts. Rose petals can help dark circles, is anti-aging and can uplift your mood!
Orange peel is an antibacterial, antiviral and anti-inflammatory oil that can help to effectively treat acne and pimples. It has been used for skin breakouts as it provides soothing relief to red, painful skin eruptions naturally. It is beneficial for hyperpigmentation as the oil is a rich source of vitamin C. It acts as a natural means to treat scars, blemishes and dark spots so that you get clear, even-toned skin
How to Use: Put a couple of drops on your fingertips then rub into your hands and rub gently on your entire face with upward strokes. Use a couple more drops if needed. Use twice a day, in the morning and at night. Can be used all over body and especially helpful on damp skin after shower or baths.
Ingredients: Organic cold pressed avocado oil infused with Tahitian Vanilla Beans, orange peel and rose petals.
NOTES:
- Skin Test: apply a small amount on the inside of your forearm to check for sensitivities.
- For external use only.
- Keep away from eyes
This product is :
- Always made with organic ingredients.
-Free of any synthetic or artificial ingredients, detergents, parabens, sodium laurel sulfate, phthalates, EDTAs, chemicals, mineral oils, and petroleum ingredients.
- Free of pesticides, synthetic chemicals, chemical fertilizers, herbicides, or growth agents.
-Free of fillers, slipping agents, glycols, silicones, dyes, or preservatives.
-Never tested on animals.