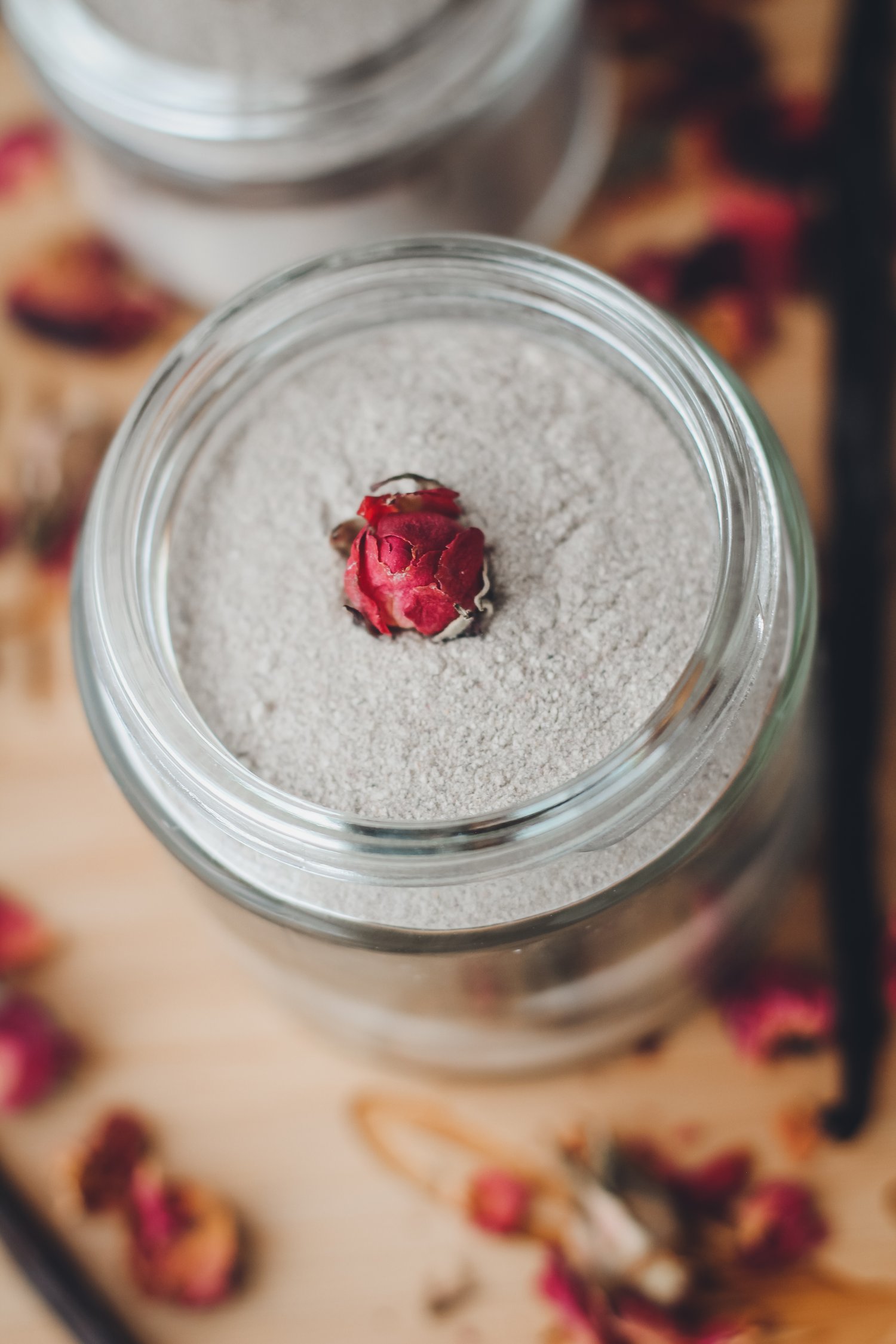 Vanilla Rose Clay Mask
I honestly don't know an aroma I love more than vanilla bean. It is warm and comforting and gives me all the cozy feels inside. Paired with one of my all time favorite floral scents, rose, this mask is so wonderful for the face and neck!
The sweet, warm, rich aroma of vanilla not only soothes the palate, it also calms the mind; and now studies show that vanilla also restores skin. Vanilla is rich in antioxidants and phenolic compound vanillin that help to neutralize free radicals and prevent skin damage. Vanilla is also loaded with different B vitamins especially niacin, thiamin, riboflavin, vitamin B6, and pantothenic acid - all of which help to maintain skin health. The vanillin is known to have antibacterial and antioxidant properties that prevent breakouts and sooth redness and irritation.
Rose petals have been shown to possess antioxidant properties (polyphenols) to help fight skin cancer and oxidative stress. Research shows that rose petal powder has skin anti-inflammatory properties. It inhibits the inflammatory response produced by exposure to UV rays. Rose petal powder thus can reduce ageing effects. Regular use on the face and body can have significant anti-ageing effect! Using consistently, you can get rid of those unsightly blemishes and dark spots also!
Oats contain anti-inflammatory properties and saponins, a cleansing agent, making oats perfect for all skin types, including sensitive skin. It also contains avenanthramides and antioxidants compounds. These are all great for soothing dry, itchy, and irritated skin. Not only that, but it is also great for acne-prone skin.
Kaolin Clay works by adsorbing oils and dirt from the skin. This gentle but detoxing clay adsorbs materials by sticking to their molecules or ions. As the clay dries on the face, it pulls the toxin or other molecules with it. It has amazing power to adsorb access oils and bacteria which proves helpful with treating acne and oily skin types.
How to use:
1. Start with a fresh face, wash your face before you begin. **I suggest applying a warm towel on your face before using a mask. It helps open up pores and loosen up dirt and oils.**
2. Add 1-2 tsp dry mask to 1-2 tsp liquid of choice. My favorite is rose water but you can use water, aloe vera, milk or even yogurt. I would use ACV in armpits.
3. Using a face mask brush or spoon, apply the mask evenly to your face, neck and armpits for a good armpit cleanse.
3. Let the mask *almost* dry, and remove while it's still tacky. If you let the face mask fully dry it will absorb your natural face oils and cause irritation. This will result in additional redness. Remove with a warm face towel.
4. Follow up with a toner like witch hazel or rose water!
5. Apply a moisturizer like Among The Flowers, Coffee & Rose or Renewed Radiance Serums!
And most importantly, don't forget to make this a relaxing experience. I love to do my masks in the morning with coffee before I start my day or at night with a calming bath. Enjoy.
Ingredients:
Organic ground oats, kaolin clay, organic powdered rose petals, vanilla bean powder.
4oz container makes appx 15 clay masks
This product is :
- Always made with organic ingredients.
-Free of any synthetic or artificial ingredients, detergents, parabens, sodium laurel sulfate, phthalates, EDTAs, chemicals, mineral oils, and petroleum ingredients.
- Free of pesticides, synthetic chemicals, chemical fertilizers, herbicides, or growth agents.
-Free of fillers, slipping agents, glycols, silicones, dyes, or preservatives.

-Never tested on animals.