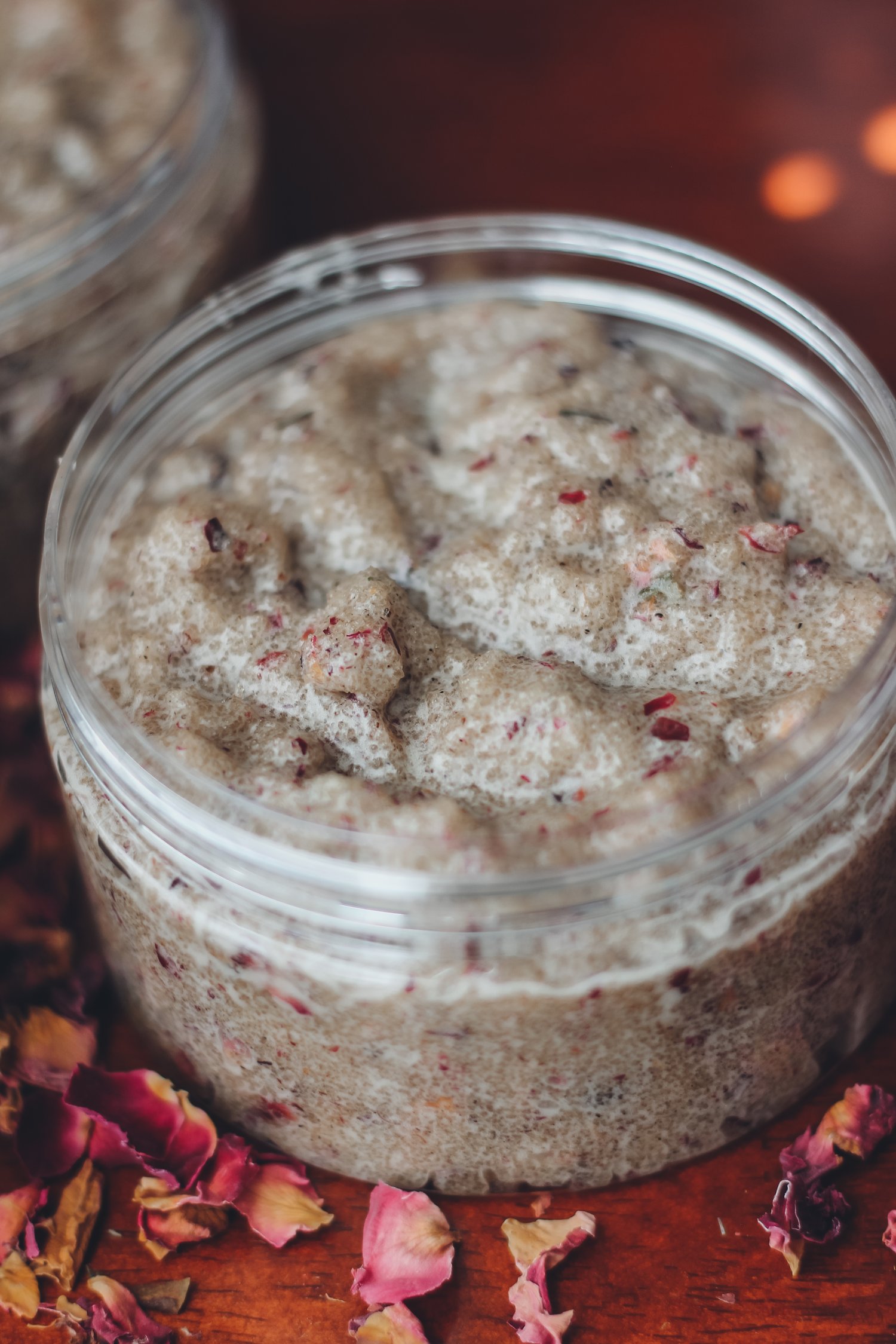 $
24.00 -
$
38.00 —
Sold out
Vanilla Rose Sugar Scrub
I have always really loved flowers of any kind. The smell just calms my mind and makes me feel good inside. Roses are underestimated if you ask me. They are not only one of the most loved flowers around, they are the symbol of love. It's been known that Ancient Greeks and Romans used them in perfume baths, while Egyptian queen Cleopatra sprinkled her love of rose petals on the floors of banquet halls and in her bathing and beauty rituals as well! Channel that inner goddess while you pamper yourself in an intoxicating sugar scrub that will leave your skin feeling nourished and smooth.
Raw organic cane sugar contains glycolic acid that helps to break down the protein aka "the glue" to boost new skin cell production. It also helps to remove dead, dry skin cells and can clear clogged pores. This reveals that beautiful glowing skin!
Organic raw shea butter is an excellent moisturizer for all types of skin, especially dry skin. It also delays the signs of aging skin as well as treats skin ailments such as "severely dry skin" and other skin infections.
Roses have cell rejuvenating properties that can minimize the appearance of scars, wrinkles and stretch marks. They are known for their intense hydrating properties, which make them perfect for mature and dry skin.
Vanilla is rich in antioxidants which neutralize free radicals and reverse skin damage caused by them. It helps to slow down signs of ageing like fine lines, wrinkles and age spots. It not only leaves your skin feeling rejuvenated but also smelling lovely.
How to use:
In the shower or bath, scoop about 1 Tbsp and apply directly to your skin and gently scrub away those rough areas. This is wonderful on your legs, especially after you shave. This can be used on severely chapped and dry skin including hands, elbows, knees and feet. It can be used all over the body and if you choose to use this on your face and lips, please be gentle. Rinse with warm water and pat dry!
Ingredients:
Organic cane sugar, Fractionated organic coconut oil infused with organic roses, organic raw shea butter, vanilla bean & botanical extract and organic dried rose petals, essential oil blend: of jasmine, rose, linaloe, copaiba, cocoa & vanilla CO2, and peru balsam.
NOTES:
- Skin Test: apply a small amount on the inside of your forearm to check for sensitivities.
- For external use only.
- Keep away from eyes
This product is :
- Always made with organic ingredients.
-Free of any synthetic or artificial ingredients, detergents, parabens, sodium laurel sulfate, phthalates, EDTAs, chemicals, mineral oils, and petroleum ingredients.
- Free of pesticides, synthetic chemicals, chemical fertilizers, herbicides, or growth agents.
-Free of fillers, slipping agents, glycols, silicones, dyes, or preservatives.

-Never tested on animals.