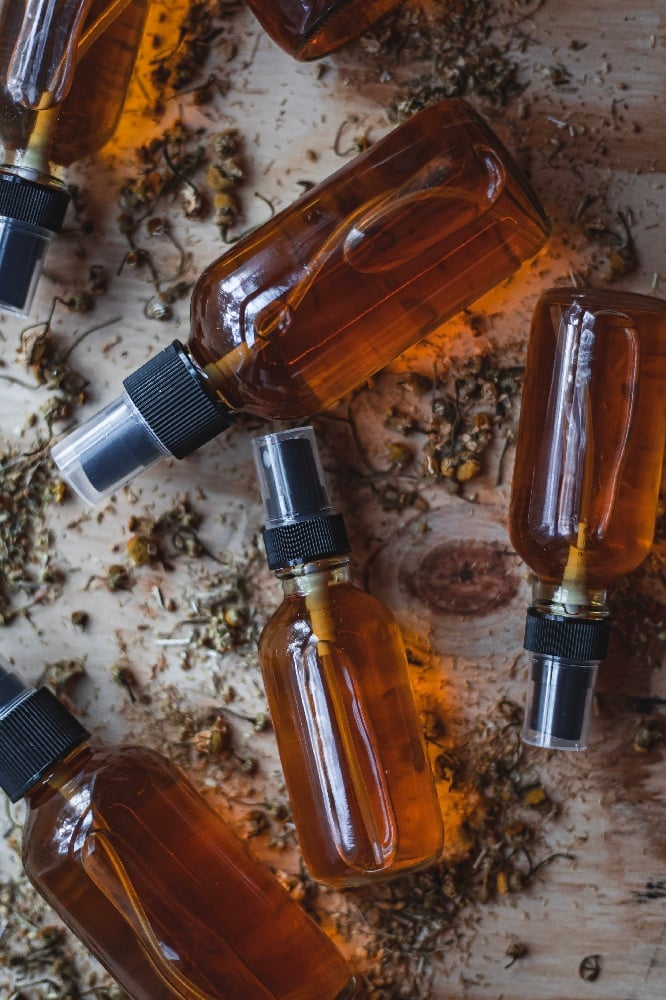 Chamomile Yarrow Witch Hazel
If I were to say there was one thing I don't go a day without, it's facial toners and sprays. This medicinal yet simple spritz cleanses the skin, gently & deeply remove trace residue from skin without drying it out and helps to closes pores with gentle astringency, and restores pH balance to the skin. By doing this, your face is then prepared for all the other products in your routine to follow, allowing serums and creams to be driven deeper into the dermal layers and offering true moisturization. Good for all skin types, especially normal to oily and acne prone.
Witch hazel is a tree native to North America known to have a wide range of benefits to our skin. The base liquid of this product is a low-alcohol witch hazel extract which I've infused with dried yarrow over a 3 wee period. This product is not drying like over-the-counter toxic witch hazel products in the grocery store. This will help support your skin's ability to heal itself from a wide range of issues as it is very cleansing and is soothing to any inflammation.
Chamomile is a calming powerhouse and is a great botanical for those with inflamed, irritated, sensitive, and reactive skin. Chamomile has documented healing powers that date back to ancient Greece and Rome where it was renowned for its ability to heal the skin and repair tissue. This formula also contains the soothing powers of Witch Hazel whose skin healing powers also date back centuries. It provides so many benefits for all skin types, but its soothing & calming properties definitely shine in this beautiful botanical.
Yarrow soothes, heals and is an anti-irritant for all areas of the skin. Yarrow improves circulation and aids in elimination of toxins. It has excellent wound healing properties and calms redness. This facial spray is the perfect toner for teens with acne problems, hormonal acne from all ages! Great for acne, oily and normal skin. Besides the facial benefits, it is also helpful on bug bites, poison ivy and sunburn, rashes from under-boob sweat, chaffing on inner thighs, razor burn, skin rashes, can also be used as a general first aid spray on burns, cuts & scrapes!
How to use:
Wash face with your favorite all-natural face cleanser. Spray a layer of this toner onto your face and if desired rub evenly and gently into skin with cotton ball. Moisturize as desired.
Ingredients:
Organic low alcohol witch hazel extract infused with dried chamomile and yarrow.
NOTES:
- Skin Test: apply a small amount on the inside of your forearm to check for sensitivities.
- For external use only.
- Keep away from eyes
This product is :
- Always made with organic ingredients.
-Free of any synthetic or artificial ingredients, detergents, parabens, sodium laurel sulfate, phthalates, EDTAs, chemicals, mineral oils, and petroleum ingredients.
- Free of pesticides, synthetic chemicals, chemical fertilizers, herbicides, or growth agents.
-Free of fillers, slipping agents, glycols, silicones, dyes, or preservatives.

-Never tested on animals.